Announcements ~ September 6, 2022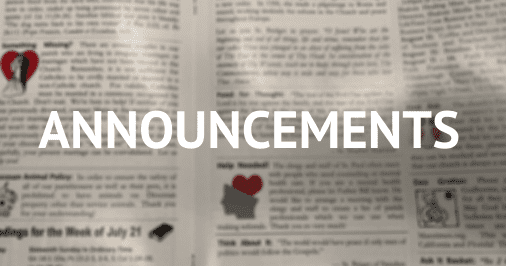 DIOCESAN OFFICES
Office of Marriage and Family Life
September is Suicide Prevention Month
Nearly 2% of all deaths are from suicide.  This has resulted in the tragic loss of many lives among our faithful and in our communities.  It has also resulted in devastating grief for the loved ones mourning those losses.  For helpful resources related to suicide prevention, visit the CDC website.  You can register to become an advocate for suicide prevention through the Suicide Prevention Training Institute, with sessions being offered in Tampa, September 16 and 17 and November 4 and 5.  For free liturgical resources, visit the Association of Catholic Mental Health Ministers (CMHM) website.  All are invited to participate virtually in a Mass for Suicide Healing and Remembrance with Bishop Joseph C. Bambera, of the Diocese of Scranton, on Sunday, September 18, 12:15 p.m.  The Mass will be broadcast via livestream at this link.
The Diocesan Office of Marriage and Family Life is partnering with couples from our local Worldwide Marriage Encounter (WWME) teams to offer a day of marriage enrichment, Married and In Love…Most of the Time! on Saturday, October 1, 2022, at the Bishop W. Thomas Larkin Pastoral Center. This daylong event from 9:30 a.m. until 3:30 p.m., is offered to married couples from all parishes in the Diocese of St. Petersburg. To register: www.WWME-FloridaWestCoast.com, $30.00 per couple. Text or call: Kris & Cristina 813-957-2295 or email: davelucysnyder@gmail.com for more information.
---
Vocation Summit:  A Parish Vocation Ministry Workshop
Parish/school staff and volunteers are invited to join us for this workshop as we continue to learn how to better promote and foster vocations in our faith communities.  We will be gathering at the Bethany Center on September 24th, 2022 from 8:30 am – 3:00 pm. Lunch will be provided as well as presentations by Sam Alzheimer of Vianney Vocations.  Please RSVP by September 9th, 2022.
RSVP here:  https://dospvocations.org/events/vocation-summit/.
---
From the Life, Justice and Advocacy Office
Statewide Culture of Life Conference
October 14-15, 2022
Bethany Retreat Center, 18150 Bethany Center, Lutz
You are invited to attend the 2022 Florida Culture of Life Conference hosted by the Diocese of St. Petersburg and the Florida Catholic Conference. The conference will provide an in-depth look at how Christ calls His Church to holistically care for His people, especially the most vulnerable. This is an excellent opportunity to learn about the important issues facing our culture and our Church and discover ways to make a positive difference. 
Visit www.dosp.org/culture-of-life-conference to learn more and register before the October 1st deadline.
Promotional materials found here: Flyer (PNG), Flyer (PDF), Facebook Post
Gender Ideology and Youth: A Catholic Response
Friday, October 14, 2022, 6:15 p.m.-9:00 p.m.
Bethany Retreat Center, 18150 Bethany Center, Lutz
How do we respond to Gender Ideology in a way that recognizes the God-given physical reality of being created male or female while also respecting the human dignity of those who struggle with gender dysphoria? In a special presentation by the Florida Catholic Conference, speakers will address how Catholics can provide a solid anthropological and scientific response, especially in cases or environments where youth are influenced or affected by these issues.
Visit https://s.dosp.org/3C1rcbh to learn more and to register for this free event before the deadline, October 1st.
Promotional materials found here: Flyer (PNG), Flyer (PDF), Facebook Post.
..
PARISHES AND ORGANIZATIONS
The Cornerstone Catholic Scripture Study
You are invited to join The Cornerstone Catholic Scripture Study to study the Letter of Paul to the Romans.  This is a Catholic Scripture Study open to men and women and meets on Wednesday mornings beginning September 14th from 9:30 AM until 11:30 AM at the DuBois Center at Our Lady of Lourdes Catholic Church in Dunedin. For more information visit our website at www.TheCornerstoneScriptureStudy.org or call Mary at 727-791-3240.
---
Help, Hope, and Healing: Mental Health Conference
September 17, 2022, from 8:00 am – 3:00 pm
The Conmy Center at Our Lady of Lourdes Parish, 750 San Salvador Dr., Dunedin
Tickets: $25 for adults; $15 for teens
Registration is required in advance through Eventbrite at: https://bit.ly/3A1iacW.
Keynote Speaker: Dr. Ulyee Choe, Director of Florida Department of Health in Pinellas County and the County Health Systems Statewide Medical Director.
There will be 21 breakout sessions with professional speakers including physicians, nurses, teachers, therapists, psychologists and more.  A special track for teenagers to attend will also be offered!  For any questions or additional information, please contact Gianna at Gianna.borst@houseofmercy-fl.org.
Flyer at this link:  https://bit.ly/3x0c1fn.
---
Silent Auction Fundraiser
Please join us for a Silent Auction Fundraiser on Friday, September 30th from 6:00 – 9:00 PM at St. Joseph Parish's Hall, 2101 22nd Ave. South, St. Petersburg, 33705.
Tickets $40 in advance per couple or $45 at the door and/or $25 in advance per individual or $30 at the door.  TICKETS INCLUDE: 1 hors D'oeuvre sampler plate, 1 drink ticket, gospel concert by some of Tampa Bay outstanding community choirs and tons of great auction baskets.
Please contact Kathi at 727-822-2153 with any questions or if you'd like to donate an item to auction. We are looking for items and appreciate your support! All proceeds benefit the operations of St. Joseph Catholic Church.
Flyer at this link:  https://bit.ly/3cO6sd4.
---
St. Lawrence Catholic School Open House
All are invited to St. Lawrence Catholic School's Open House on October 27th, 2022, beginning at 9:00 a.m. in Higgins Hall.   This is a great opportunity for families with children going into Early Childhood 3 through 8th grade to check out all St. Lawrence offers to its students and families. This event is located at 5223 N Himes Avenue, Tampa, FL, 33614.
Please RSVP to lilianne@stlawrence.org or (813) 879-5090 Ext. 230.  See you there!
---
Men's Resurrection Experience
Resurrection Catholic Church, Riverview, invites you to join them for the 2022 Men's Resurrection Experience:  A Catholic Weekend Retreat for Men.  The event will take place from Friday, November 11th through Sunday, November 13th at Bethany Center, 18150 Bethany Center Dr, Lutz.
Guest Speaker:  Lloyd Greenhaw from Grace & Renewal Ministries
The experience begins Friday at 7:00 pm and concludes with Mass on Sunday at 2:00 pm.  Cost is $195 for the three days – two nights retreat weekend and includes accommodations and meals.  Single room available for $370.  To register call Al Larson at 813-230-9152 or by Email: Alarson1@tampabay.rr.com.
Flyer at this link:  https://tinyurl.com/2efssfnz.
---
Sacred Heart to Host Special Presentation on the Shroud of Turin
Join your fellow parishioners and visitors from around the diocese on Tuesday, September 13, at 6:30 p.m. at Sacred Heart Tampa's North Campus (3515 N Florida Ave.) for a special presentation about the Shroud of Turin, featuring Shroud Science Group member Dr. Wayne Phillips.
A Vatican-recognized authority on the Shroud of Turin, Dr. Wayne Phillips will provide an in-depth look at the history and study of the Shroud of Turin, believed to be the burial covering adorned to Jesus Christ when He was laid to rest following His crucifixion. The Shroud has a complicated and multifaceted history, which will be discussed in this hour-long presentation, ending with a Q&A. The event is free and open to all, but seating is limited and will fill up fast.  Reserve your seats now at shfla.org/shroud2022.
---
St. Francis Day Celebration & Blessing of the Animals
October 7, 2022 from 4:00 – 7:00 PM
The Franciscan Center, 3010 N. Perry Ave., Tampa, is combining the Annual St. Francis Day Celebration & the Blessing of the Animals with the historic occasion of the 50th Anniversary of the Spirituality/Conference Center.  Mayor Jane Castor will unveil an Historical Marker-50th Anniversary of the Franciscan Center. 
The Blessing of the Animals is an annual event in honor of St. Francis of Assisi, who is the patron Saint of animals and the environment. This year's event features several celebratory opportunities.  Please plan on joining us for this celebration.
More information at this link:  https://bit.ly/3cNhNKr.
PILGRIMAGES AROUND THE DIOCESE
Parish Pilgrimages If your parish is offering a pilgrimage within the coming months, we invite you to share this information with the Pastoral Bulletin: pastoralbulletin@dosp.org.  This allows readers to view opportunities to participate in an upcoming pilgrimage.  The pilgrimages are posted in the Diocesan website under the Pastoral Bulletin page at this link: https://www.dosp.org/pastoralbulletin/pilgrimages/.