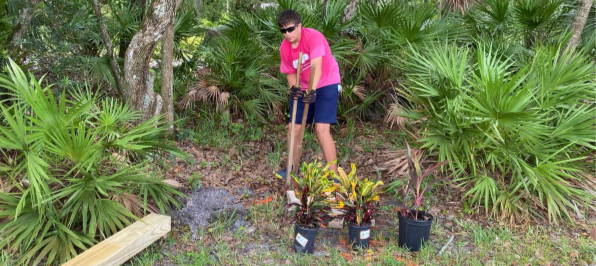 "This is one of my favorite weeks of the year."  That's what one of the students, Mikayla Croissant, said after experiencing a week long local mission trip that 20 students from St. Timothy Youth Ministry attend in June 2020.  We joined other students from all over the Diocese in a program called the Good Samaritan Project (GSP) at Bishop McLaughlin High School. Typically, the GSP service week would gathered students to stay the night at Bishop McLaughlin High School to stay the night and get sent all around the community to serve those in need during the day but this year was very different due to the Coronavirus pandemic. Students remained at their local parishes and served their own backyard, literally.  However, this didn't change the spirit of the program at all.  
Our mornings each began with prayer at Mass and a digital morning show presented by our Diocesan Directors of Youth Ministry and their college staff. Our students really loved it. Instead of loading up on buses every morning to complete projects all over town, our students dedicated this week to a few major projects at St. Timothy. We created an outdoor Stations of the Cross and also did some painting in our youth center.  To complete our Stations of the Cross, students cleared land alongside a half mile stretch of sidewalk, then dug holes to install eight foot poles, stained those poles, attached the station at the top of the pole, and completed the stations with some landscaping and plants along each station. We built multiple benches for a few of the stations.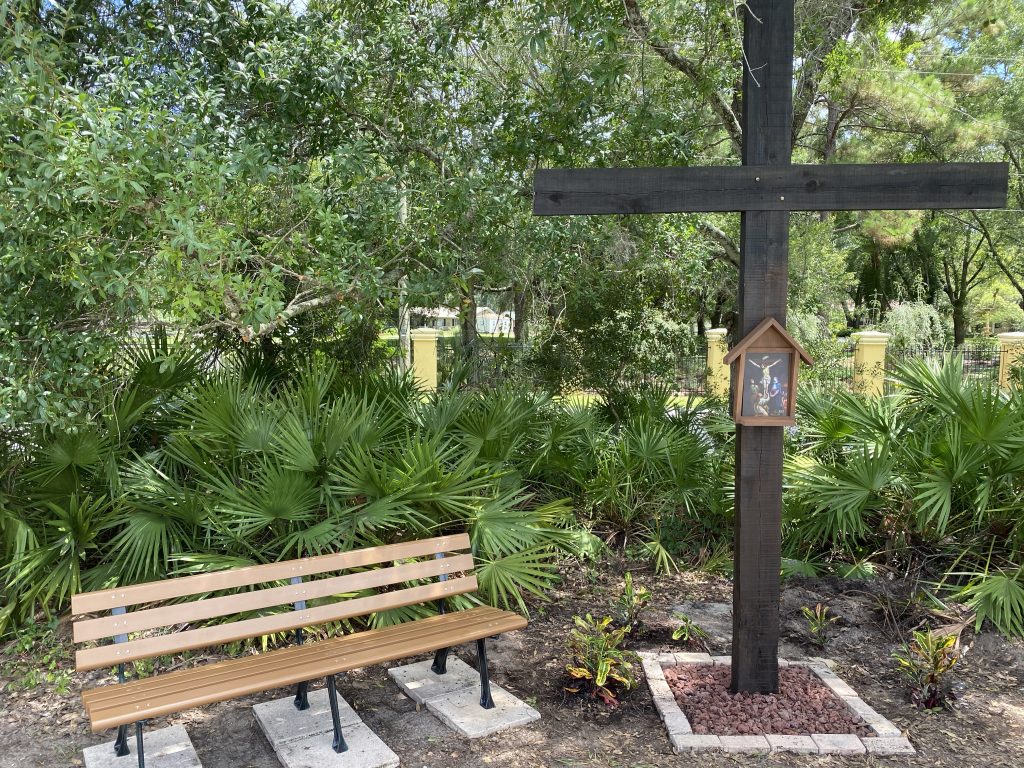 Being united for such a project at our own parish had some other benefits. Our St. Timothy Men's Club decided to help fund the Stations of the Cross project and also send us one of their best, Wayne Gaskill, to help manage the project and mentor our students. He taught them construction skills and service through joy. Students worked really hard on these stations in the blazing heat in the dead of summer. The students didn't complain, but leaned into their work of building the Stations of the Cross, as if to carry their own cross.  
After each long day of work we gathered back together in the Youth Center (six feed apart per social distancing guidelines) for rest, play and some very powerful talks and prayer experiences to motivate us all to live as Jesus' disciples.  Students expressed how this week was the perfect mix of fun and service.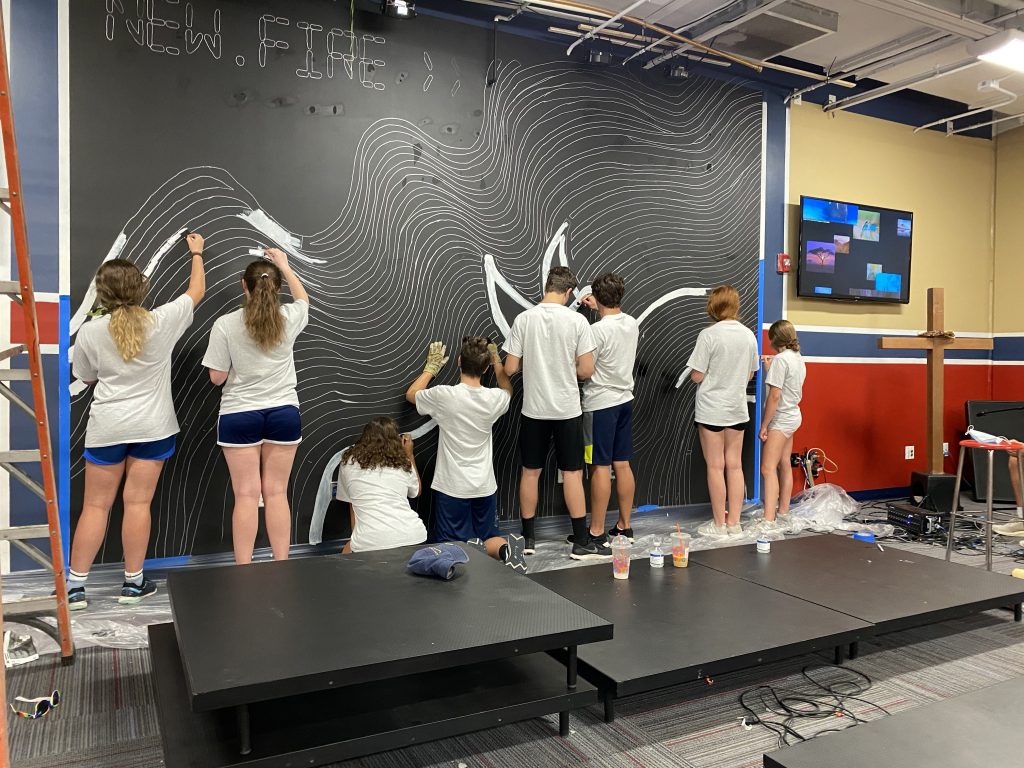 For the tail end of the week, we focused on a different project. Every year at St. Timothy the youth group focuses on a different theme – two years ago was Relentless Father, last year was FIAT, and this year's theme is"New Fire".  With every new theme, students and Youth Ministry staff create a new stage design for the theme. Using computers, students designed a beautiful stage design to usher in our new theme. They then painted our new design on the wall, as well as upgraded our Youth Center Underground studio with some new paint. Our last few days of GSP was exciting, fun and a welcome break from the heat of Stations of the Cross project.
GSP is not just service work for a week during the summer or even an opportunity to get service hours for school, but a call to be missionary for a lifetime.  GSP is a lesson to reach sainthood! Students learned to find true J.O.Y. (Jesus, Others, Yourself), by prioritizing their lives in that order.  Jesus calls us all to live a life contrary to what the world teaches us.  Jesus says, talking to his disciples, "If any of you want to be great, you must be a servant" Mark 10:43.  We are called to remain in God's love through His word and prayer and then spread God's love by having a servant's heart always.  
Article written by: Justin Lantz, Parish Youth & Young Adult Minister at St. Timothy Parish in Lutz.
---
Christ is Alive! Despite all the hardships in our world today, the theme for the 2020 Good Samaritan Project reigned true! The 2020 GSP combined the use of social media, interactive webinars, online resources, and small on-site service at our churches (where families and parishes were comfortable and socially distant). Hundreds of teens, families, and adults were still able to participate, individually and at one of our 10 participating parishes, in our annual service retreat offered by the Office of Youth and Young Adult Ministry. See more photos from the week here.
The parishes who participated this year were:
Blessed Sacrament, Seminole
Citrus County Deanery (Our Lady of Grace, Our Lady of Fatima, and Elizabeth Anne Seton)
Espiritu Santo, Safety Harbor
Our Lady of the Rosary, Land O'Lakes
St. Mark the Evangelist, Tampa
St. Timothy, Lutz
St. Anne, Ruskin
St. Michael the Archangel, Clearwater
St. James the Apostle, Port Richey
St. Joan of Arc, Spring Hill
This annual service program is designed to help our youth to grow as Christians, serve the community, and pray for the needs of others. It is more than a one week experience, it is an opportunity to build good Samaritans ready to act when their help is needed. Learn more at http://www.goodsamaritanproject.com/.