Bishop Gregory Parkes Joined Ecumenical Dialogue on Caring for Our Common Home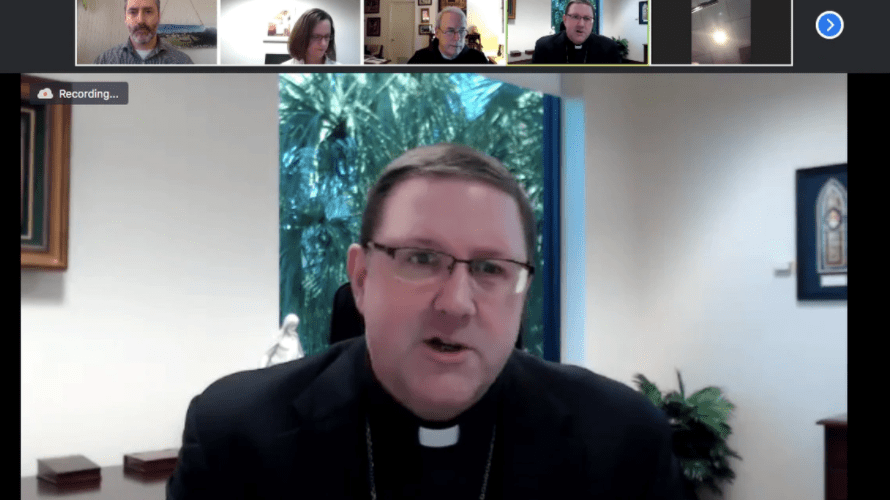 Screenshot courtesy of In Solidarity.
On May 13, 2020, the Diocese of St. Petersburg Office of Life, Justice and Advocacy hosted an ecumenical online forum to commemorate the 5th anniversary of the publication of the papal encyclical, Laudato Si, translated "Praise be to you," subtitled, "On Care for our Common Home." The dialogue featured a medical expert, clergy, parish representatives and members of the media. Watch a replay of the dialogue at the bottom of this article.
Bishop Gregory Parkes opened with a prayer and encouragement for those gathered.
"The gravity of the ecological crisis demands that we all look to the common good, embarking on a path of dialogue which demands patience, self-discipline and generosity," said Bishop Parkes.
The Catholic Church has been seen as a leader on the issue of environmental stewardship and it has long been a theme of Catholic Social Teaching.
"Our Christian faith calls us to serve as a moral compass in society and we see in climate change, and now with coronavirus, a need to come together even more strongly as one human family to protect ourselves, and especially the most vulnerable, from these threats to life and dignity," said Sabrina Burton Schultz, Director, Office of Life, Justice and Advocacy .
Dr. Sandra Gompf, Associate Professor of Infectious Diseases at the University of South Florida shared that the extensive use of fossil fuels releasing carbon into the atmosphere contributes to the earth's warming cycle. With warming comes an increase in insect-related disease and viruses to regions of the earth that have never seen these impacts. Research also shows pollutants in the atmosphere cause an increase in lung diseases and COPD. "As we are learning every day in the last 4 months, pollution can cause an increase in severity of COVID 19," said Dr. Gompf.
The overarching theme was caring for the environment relating to respect for life and the COVID 19 pandemic. "Creation care is a matter of life," said Reverend Mitchell Hescox, President and CEO of Evangelical Environmental Network. "COVID 19 death rate is terrible, but in the United States alone, somewhere between 190,000 and 200,000 people die per year from air pollution related to fossil fuels." Hescox believes we must create a new world utilizing solar energy, renewable fuels, and farming practices. "What we need is to follow Jesus into a promised land that offers more sustainable living, sustainable jobs and more economic opportunity for everybody."
How will Laudato Si and the lessons given be integrated into the community? The retired Senior Pastor of Northland Church, Reverend Joel Hunter, brought to the conversation the perspective of a large congregational leader and how they implemented practices of environmental awareness. Creative ways included taking an inventory on their own church's carbon footprint which helped them become better stewards. "We have a moral mandate going forward, especially to mitigate pollution," he said.
Father George Corrigan, Pastor of Sacred Heart Catholic Church in Tampa said Laudato Si, "is another entry into a very long tradition of Catholic social teaching. It is offering up a moral framework of 'this is how you are to see the world around you.'"
Stressing the need for collaboration on this issue, Bishop Parkes added that "this is a reinforcing of our belief that we do need to be community, we do need to be family. Yes, families have issues but they work it out, they figure it out and they hug it out. We need to do that in terms of fostering bonds with each other."
---
Read coverage of this dialogue from various news outlets below:
May 18, 2020 – Tampa Bay Catholics and Evangelicals discuss the environment and coronavirus – Tampa Bay Times
May 14, 2020 – Clergy: Urgency in pandemic response can apply to addressing climate change – Catholic News Service
May 14, 2020 – On Laudato Si anniversary, Catholics and Protestants alike focus on common good – Crux