Bishop Gregory Parkes Receives National Award for Tweeting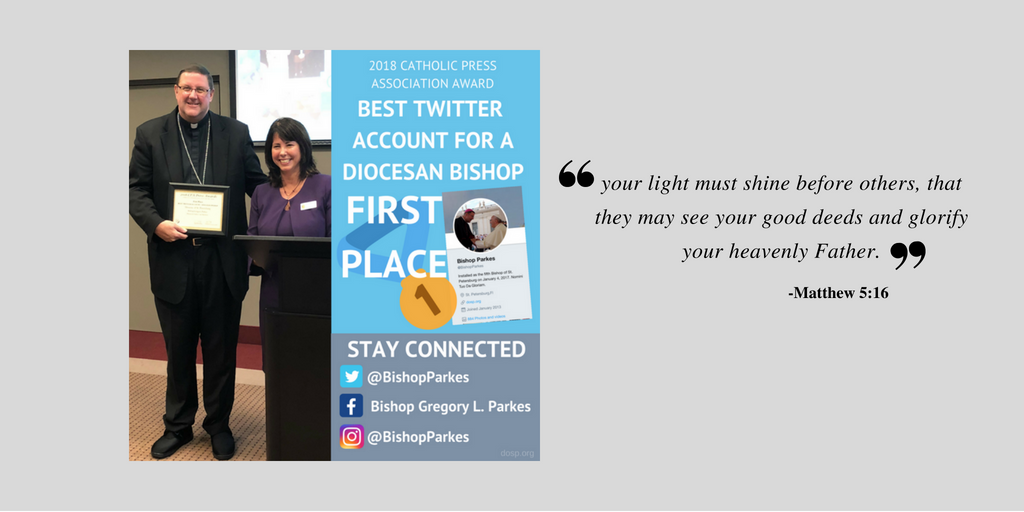 Bishop Gregory Parkes (@BishopParkes) is an active tweeter. He uses Twitter and other social media to post about his daily activities, some of which show a more personal side to the pastor in chief of the Diocese of St. Petersburg.
Now Bishop Gregory Parkes has something new to tweet about. He recently received the award of Best Twitter Account by a Diocesan Bishop in a national competition by the Catholic Press Association. When describing why Bishop Parkes is tops in tweeting, the judges who reviewed his account said, "Great use of visuals, bright colored photos, and a wide variety of news. While many Twitter accounts rely on stock photos and text-based graphics, this one uses large numbers of original photos showcasing their community members."
Those original photos that wowed the judges were sometimes taken by Father Carl Melchior who is often seen during large gatherings at the bishop's side, camera phone in hand, looking for the best angle and lighting to capture that perfect image. Other times, it's the bishop himself donning the iPhone camera in the midst of ceremonies and celebrations.
Some might say this is unconventional work for a bishop. But to Bishop Parkes, it's his way of sharing the Good News and also letting people see the life of a bishop.
Recently, the bishop's Twitter account showed him with law enforcement officers in Lutz, with students in Tampa, with religious sisters in San Antonio, with prison ministry volunteers in Zephyrhills and with homeless residents of Pinellas Hope in Largo.
Follow Bishop Parkes on Social Media
Twitter: https://twitter.com/BishopParkes 
Instagram: https://www.instagram.com/bishopparkes/
Facebook: https://www.facebook.com/bishopparkes/
 More Good News!
The Diocese of St. Petersburg Facebook (https://www.facebook.com/DioStPete/)  account was also recognized by the Catholic Press Association, garnering second place for Best Diocesan Facebook Account. Maria Mertens, the diocesan communications coordinator, received the award. She has been managing the account for seven years. Her posts were described as engaging with a variety of posts that reflect the mission of the Diocese.