Bishop Gregory Parkes to Celebrate Annual Chrism Mass on April 16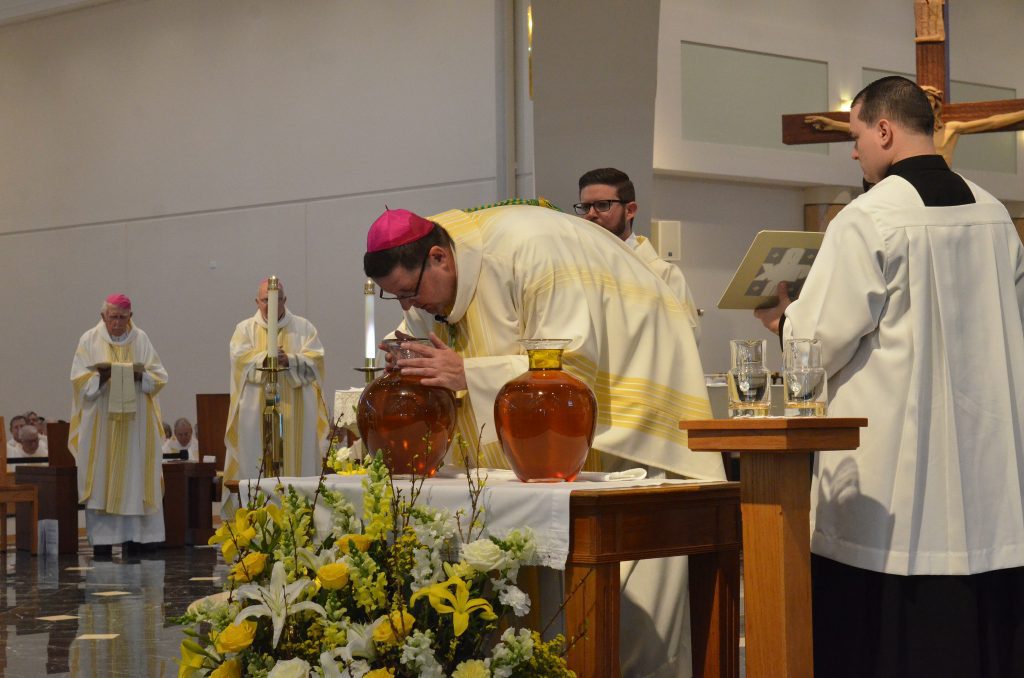 Gathering of all Priests, Blessing and Consecration of Holy Oils
At this year's Chrism Mass, Most Reverend Gregory Parkes will be joined by Bishop Emeritus Robert Lynch, Bishop Joseph Potocnak, S.C.J. (retired), Abbot Isaac Comacho, O.S.B, approximately 170 priests and 50 deacons, as well as religious sisters and brothers, seminarians, and other representatives from 74 parishes and 6 missions in the counties of Pinellas, Hillsborough, Pasco, Hernando and Citrus. A video stream of the Chrism Mass can be viewed here. You can also listen to a broadcast on Spirit FM 90.5.
What:                  Annual Chrism Mass during Holy Week
When:                 Tuesday, April 16, 2019, 11:30 a.m. – 1:00 p.m.
Where:                Cathedral of St. Jude the Apostle, 5815 Fifth Avenue, St. Petersburg
During this Mass, Bishop Gregory Parkes will consecrate the Sacred Chrism Oil that will be used during thousands of Baptisms and Confirmations throughout the coming year in local parishes. The bishop will also bless the Oil of Catechumens that is reserved for adults preparing to be baptized and the Oil of the Sick, that is reserved for those who are seriously ill. After the Mass, leaders from parishes and missions receive vessels of these Holy Oils to take back to their places of worship.
The newly blessed and consecrated Holy Oils from the Chrism Mass will be first used at the Easter Vigil Mass on Holy Saturday, April 20. On this day, more than 350 people will become new Catholics at parishes throughout the Diocese receiving the sacraments of Baptism, Confirmation and Holy Eucharist.
Additional Information:
At the Chrism Mass, celebrated in churches throughout the world, priests renew their personal dedication to Jesus Christ, promise to unite themselves closer to Christ and renew their commitment to priestly service. It is an expression of unity of the priests with their shepherd, the bishop of the Diocese. In 2019, 25 priests in the Diocese of St. Petersburg will celebrate special milestone anniversaries of their ordination. As is our tradition, Bishop Gregory Parkes will honor them during the Chrism Mass. This year's honorees are as follows:
25th Anniversary
Rev. Erwin Belgica
Rev. Joseph P. Chacko
Rev. Salim Joseph, OFM
Rev. Joel M. Kovanis
Rev. Emery N. Longanga
Rev. Brian J. McColl
Rev. Clement Oyafemi
Rev. Robert H. Young
40th Anniversary
Rev. Michael T. O'Brien
Rev. Richard Pilger, IC
Rev. Edward Reiter, MSA
50th Anniversary
Rev. James Gordon, IC
Rev. Msgr. Patrick Irwin
Rev. John Kane
Rev. Patrick J. Lloyd, SCJ
Rev. Richard Maloney, SDS
Rev. Steve Pujdak, SCJ
Rev. Kenneth E. Ridgeway, SM
Rev. John Vakulskas
60th Anniversary
Rev. Msgr. Antonio Diez
Rev. Thomas Jones, OFM
Rev. Raymond C. Mann, OFM
65th Anniversary
Rev. Jose G. Gonzalez
Rev. Robert Schindler
Rev. Robert Velten, OSB
About the Diocese of St. Petersburg
The Diocese of St. Petersburg is comprised of over 479,000 Catholics within the five counties of Hillsborough, Pinellas, Pasco, Hernando and Citrus.  It includes 74 parishes, 6 missions, 48 schools and early childhood centers and a variety of social service, health care, housing and pastoral ministries. Mass is celebrated regularly in 12 languages and we are led by Most Reverend Gregory Parkes, who was installed as the fifth bishop of our Diocese on January 4, 2017.