Bishop Gregory Parkes to Honor Parishioners for Selfless Service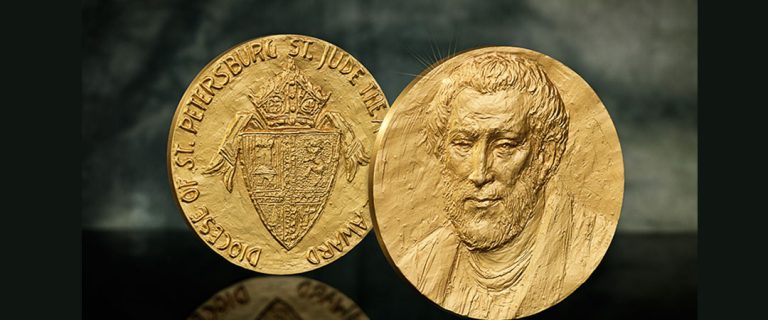 Bishop Gregory Parkes will honor and thank parish representatives for distinguished and outstanding service to their church and community by presenting them the St. Jude the Apostle Medal Award on November 24, 2019 at 3:00 p.m. at the Cathedral of St. Jude the Apostle in St. Petersburg. The prayer service will be live video streamed (see below).
Photos from the Prayer Service
"To you who receive the St. Jude the Apostle Award, you are courageously living the Gospel," said Bishop Parkes during the 2018 Awards Ceremony and Prayer Service. "In many cases you are stepping out of your comfort zone and you are giving time, that perhaps you don't have in your life, to serve God and to serve others. It takes courage and trust to be able to do that."
"I thank you for putting forth your gifts and talents to serve others," Bishop Parkes added.
The St. Jude the Apostle Medal was commissioned by the Diocese of St. Petersburg in 1999 at the request of Bishop Robert N. Lynch. This medal acknowledges the great gift of the Church, its people, exemplified in these individuals who in their generosity and love of their faith have greatly contributed to spreading the Gospel of Jesus Christ in their parish.
The honorees come from all walks of life and serve in various ministries such as food pantries, financial assistance programs, outreach to the sick and homebound and many other volunteer positions at local churches. One of the award recipients is Darius, a mentally challenged young man whose love and dedication as an altar server at St. Brendan Catholic Church, Clearwater, is a shining example for others. Darius has faced many health issues in his life but serves faithfully and joyfully.
(Some award recipient cannot attend the ceremony and will receive their award at another time and location.)
About the Diocese of St. Petersburg
The Diocese of St. Petersburg is comprised of over 470,000 Catholics and includes 74 parishes, 5 missions, 48 schools and early childhood centers, and a variety of social service, health care, housing and pastoral ministries located within the five counties of Hillsborough, Pinellas, Pasco, Hernando and Citrus. Mass is celebrated in 12 languages and we are led by our fifth bishop, Most Reverend Gregory Parkes who was installed on January 4, 2017.