Bishop Parkes Blesses Newly Expanded Christ the King Parish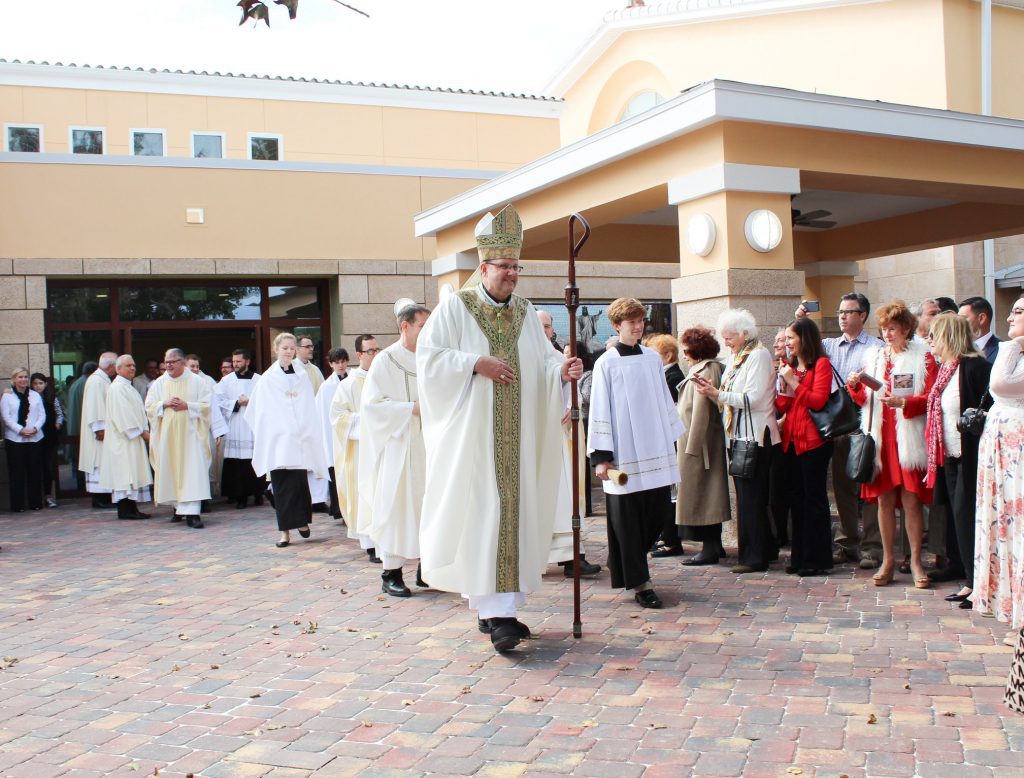 After nine months of construction, the expanded Christ the King Catholic Church reopened its doors the weekend of January 19 & 20. The parish of over 3,500 families had been using a parish hall as their place of worship since construction began last spring, the day after Easter. (Photo above courtesy of Christ the King Parish)
Fully-funded through the generosity of its parishioners, improvements to the church include increased seating capacity from 600 to 1,000, an expanded narthex with new restrooms and confessionals, a porte-cochere, new devotional statues and new areas including the St. Michael Courtyard and Gethsemane Garden.
A Mass of Blessing took place on Sunday, January 20, celebrated by Bishop Gregory Parkes and Bishop Timothy P. Broglio, JCD, of the Archdiocese for the Military Services, USA, along with numerous local clergy.
"The blessing of our expanded church was the culmination of many years of planning which was made possible through the generosity of so many," said Fr. Len Plazewski. "I am so thrilled about getting back into our parish church, not just because it will accommodate more people, but because it will better support the devotional and faith life of our people.  It is very exciting!"
In the week following the Mass of Blessing, open houses will take place from 10:00 a.m. to Noon and 2:00 p.m. to 4:00 p.m., through Friday, January 25. Self-guided tour sheets will be available in the narthex, as well as expert guides to answer any questions. All are welcome to participate in Daily Mass, held at 12:10 pm in Our Lady Queen of Angels Chapel. Christ the King Catholic Church is located at 821 S Dale Mabry Hwy, Tampa, 33609.
Founded in 1944, Christ the King Catholic Church is a healthy parish of over 3,500 families. Located in South Tampa, it is part of the Catholic Diocese of St. Petersburg. Christ the King Catholic Church is located at 821 S Dale Mabry Hwy, Tampa, FL 33609. For more information, call 813.876.5841, visit www.CTK-Tampa.org (new website coming soon!) or connect on social media @CTKTampa (Facebook & Twitter).