Bishop Parkes Brings a Message of Hope from Pope Francis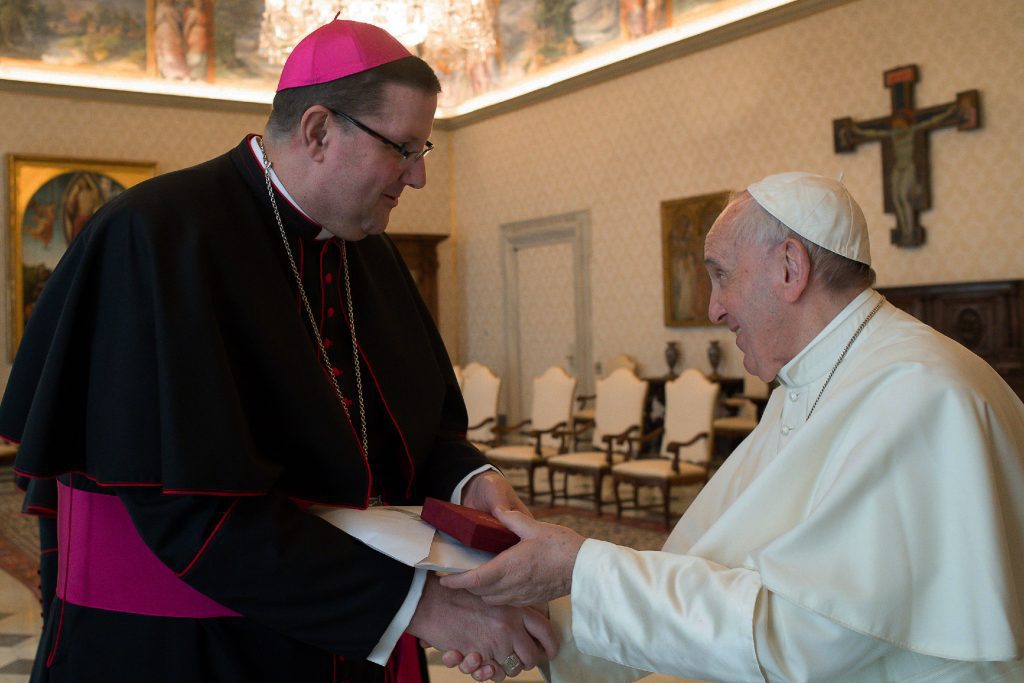 On February 13, 2020, Bishop Gregory Parkes participated in a meeting with Pope Francis, Successor of St. Peter, at the Vatican. The meeting was part of a regularly scheduled Ad Limina visit to provide the Holy Father an update on the Diocese of St. Petersburg and to connect on a personal level.
"He was very, very kind, very fatherly," said Bishop Parkes. "I really got the sense that he was glad to see us and he wanted to hear from us."
During the meeting, Bishop Parkes asked Pope Francis to offer words of encouragement to those who are struggling with their faith, especially in light of scandals happening in the Church.
Pope Francis shared, "Throughout its history, the Church has experienced difficult and challenging times, even much worse than we are dealing with right now. But the Church has sustained because God guides his Church through the Holy Spirit."
Pope Francis also reminds us, "God's hand is guiding His Church and will continue to do so and that should be a source of hope for us. God will never abandon us and He won't abandon His Church."
The term ad limina comes from the longer Latin phrase ad limina apostolorum, meaning "to the threshold of the apostles." During their stay in the Eternal City, Bishop Parkes and his brother bishops also made a pilgrimage to the tombs of the apostles Peter and Paul. They also celebrated Mass at the Basilica of St. Mary Major and prayed in front of a relic of the Lord's crib from Bethlehem.
Bishop Parkes also celebrated Mass at the Basilica of St. John Lateran. This is the Cathedral of Rome where the Pope's cathedra ("chair") is located, since Pope Francis is also the bishop of Rome. The cathedra is a symbol of each bishop's teaching authority in the Church.
While in Rome, Bishop Parkes also visited with Fr. Ralph D'Elia and Deacon Josh Bertrand who are studying there and Fr. Gilberto Quintero, of Our Lady of Guadalupe Mission, who is on sabbatical.
Bishop Parkes also met with Vatican ministries known as dicasteries. He met with Cardinal Farrell at the Congregation for Marriage, Family, and Laity and with the Secretary of State, Cardinal Parolin, at the Vatican.
Video of Bishop Parkes Describing his Visit with Pope Francis
Podcast of Bishop Parkes Discussing Ad Limina Visit on A View from the Top