Bishop Parkes will Consecrate the Diocese of St. Petersburg to St. Joseph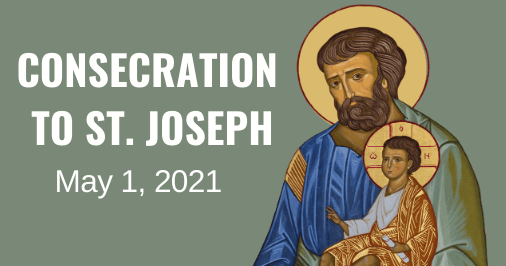 Bishop Gregory Parkes will consecrate parishes, schools, ministries and the people of the Diocese of St. Petersburg to St. Joseph, the earthly father of Jesus Christ. This will take place at the Cathedral of St. Jude the Apostle, in St. Petersburg at 12 noon on Saturday, May 1st, the Memorial of St. Joseph the Worker. (Read this article in Spanish here.)
Pope Francis recently announced a "Year of St. Joseph," to help us learn more about this heroic member of the Holy Family, an ordinary man who fulfilled his purpose through obedience, love and trust in God. St. Joseph is the patron and protector of the Catholic Church and the patron saint of fathers.
"When you consecrate yourself to St. Joseph, you entrust yourself to his fatherly care, and you ask him to help you live the holy virtues that strengthen families, churches and communities," said Bishop Parkes.
The consecration will take place during Midday Prayer and it will be livestreamed for those unable to attend in person. Participants will fulfill part of the Plenary Indulgence requirements established by Pope Francis for the Year of St. Joseph, which began on December 8, 2020. As one community, we will entrust our activity to the protection of St. Joseph and invoke the intercession of St. Joseph for those who are unemployed. We will also pray the Litany to St. Joseph.
An indulgence is a remission before God of the temporal punishment due to sins. To learn more about Plenary Indulgences for the Year of St. Joseph, read the bishop's letter here.
We will be following CDC guidelines to prevent the spread of COVID-19.
For more information visit: www.dosp.org/joseph.
Quote from The Wonders of Our Spiritual Father:
"The spiritual fatherhood of St. Joseph is extremely important for your spiritual growth. Total consecration to Mary is not diminished by total consecration to St. Joseph. The Hearts of Jesus, Mary and St. Joseph are one."

-Father Donald Calloway
All Catholics are encouraged to prepare for consecration to St. Joseph during the Year of St. Joseph. One suggestion is to follow the 33-day format found in the book, "Consecration to St. Joseph, The Wonders of Our Spiritual Father." (Father Donald Calloway, MIC, Marian Press, e-book)