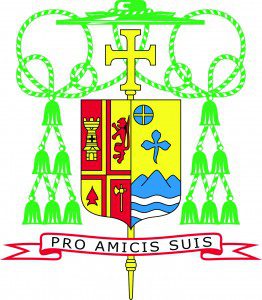 Blazon:
Arms impaled. Dexter: Quarterly, Gules and Or, a reversed Latin cross throughout; within the quarters: I, a castle tower; II, a lion rampant; III, an Indian arrowhead; IV, a halberd, all counterchanged. Sinister: Or a trefoil Azure; issuant from a base barry wavy of four Argent and of the second, three hills also of the second; in dexter chief a hurt charged a cross of the field.
Significance:
By heraldic tradition, the arms of the bishop of a diocese are joined (impaled) with the arms of his jurisdiction.
The left side of the coat of arms represents the Diocese of St. Petersburg. The inverted Latin cross within the coat of arms is used to honor St. Peter, who was nailed to a cross, head downwards, because he deemed himself unworthy to be crucified in the same manner as Jesus Christ. The Spanish explorers and early missionaries who first brought the Gospel here over four hundred and seventy years ago are acknowledged by the predominant colors of red and gold and by the castle tower and lion which were part of the coat of arms of the King of Spain, The Indian arrowhead in the base of the shield is a recognition of the indigenous people of Florida. Memorializing St. Jude the Apostle, the patron of the diocese, is the halberd, or battleax, by which it is said he was martyred in Persia for preaching the Gospel.
THE MOTTO
The Motto of Bishop Robert Lynch is "Pro Amicis suis." The English translation of the Latin "Pro Amicis suis" is "For His friends." His motto is taken from the Gospel of St. John (15:13). This phrase expresses the deep belief and faith that to truly be a friend of Christ we too must be willing to lay down our lives for our friends as He did for us.