Black Catholic Ministry Meeting – July 21, 2018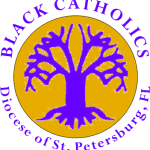 Our quarterly Black Catholic Assembly meeting will be on Saturday, July 21, 2018. We will meet at St. Mark the Evangelist parish in Tampa from 1:00 pm – 4:00 pm.
St. Mark parish is located at 9724 Cross Creek Blvd., Tampa, FL 33647.
For information, contact Dale Brown at dpb@dosp.org, 727-344-1611, ext. 5458