Brother Bishops: Pope Francis Names Father Stephen Parkes, Brother of Bishop Gregory Parkes, to Serve as Bishop of Savannah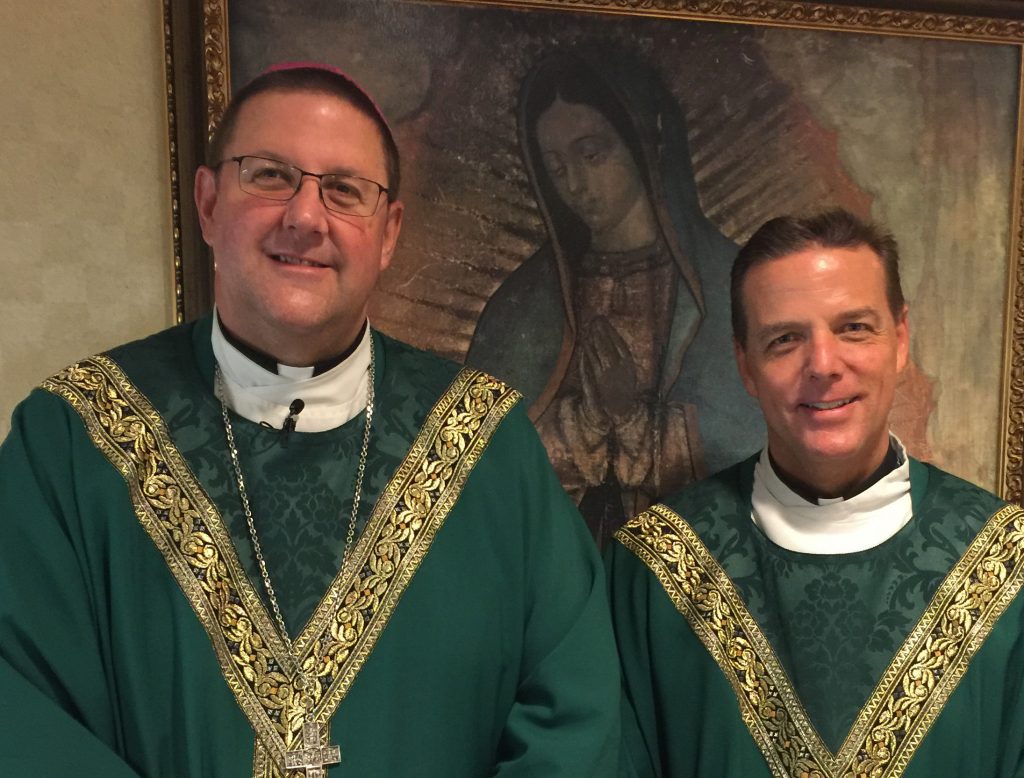 For about a week now, Bishop Gregory Parkes has been keeping a pontifical secret that he was finally able to share on Wednesday, July 8, when he posted on social media at around 6:00 a.m., "A day of great joy as my brother, Fr. Stephen Parkes, is appointed Bishop of Savannah by Pope Francis! Blessed to be brothers. Blessed to be brother Bishops!"
To congratulate his brother, who is one year younger, and offer gentle guidance on this new journey he was about to begin, Bishop Gregory Parkes met with his brother this past Saturday for lunch. During the lunch, he gave his brother a Celtic Pectoral Cross that had been given to him by Bishop John Noonan of the Diocese of Orlando when he was named a bishop in 2012.
"We both agreed that this was a fitting choice given our shared history of serving as priests in the Diocese of Orlando under the leadership of Bishop Noonan. I also gave him a zucchetto which he can wear in the coming months," said Bishop Gregory Parkes.
Bishop-Elect Stephen Parkes wore the cross during a press conference from the Diocese of Savanah today. The Diocese of Orlando posted biographical information about Bishop-Elect Stephen Parkes and offered heartfelt prayers.
Further reflecting on this special day in their lives, Bishop Gregory Parkes said: "The news that Pope Francis has named my brother the new Bishop of Savannah is a source of great joy! It's a blessing to think that we will not only be brothers, but now brother Bishops as well. He has been a good and faithful priest and pastor in the Diocese of Orlando and will bring that experience to his new ministry as the shepherd of the Diocese of Savannah. I know he looks forward to getting to know his new diocese, and to his ordination on September 23rd."
The appointment was publicized in Washington, D.C. on July 8, 2020 by Archbishop Christophe Pierre, apostolic nuncio to the United States and on the Vatican website. The Diocese of Savannah has been without a bishop since Bishop Gregory J. Hartmayer was installed as Atlanta's archbishop in May.
Bishop Gregory Parkes said he and his brother were raised by faith-filled parents, who were not overly pious but "had a great love for the priesthood."
Bishop-elect Parkes was born on June 2, 1965 in Mineola, New York, and ordained to the priesthood on May 23, 1998 for the Diocese of Orlando. Father Parkes attended Massapequa High School in New York and received a bachelor's degree in Business Administration/Marketing from the University of South Florida in Tampa, Florida. He studied philosophy and theology at St. Vincent de Paul Regional Seminary in Boynton Beach, Florida, and holds a Master of Divinity.
After ordination, he was assigned to Annunciation Church in Longwood as parochial vicar where he served until 2005 when he was named Parochial Administrator at Most Precious Blood Church in Oviedo. Additionally, in 2004 he was named Spiritual Director for Catholic Campus Ministry at the University of Central Florida in Orlando where he served until 2011.
Since 2011, Bishop-elect Parkes has served as a beloved Pastor at Annunciation Church in Longwood. His ministry also includes serving as Dean of the North Central Deanery (2010-present), and Spiritual Director of the Catholic Foundation of Central Florida (2009-present). He speaks both English and Spanish.
The Diocese of Savannah is comprised of 37,038 square miles in the state of Georgia and has a total population of 2,934,000 of which 75,603 are Catholic.