Cancer Survivor Finds Hope and Shares Hope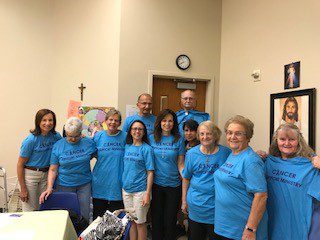 Toni Martin was diagnosed with breast cancer five years ago and one year later she founded the St. Mark the Evangelist Cancer Support Ministry.  She has gone through surgery, chemotherapy and radiation and she is still on medication to treat her illness. The 70-year-old was determined not to let cancer control her life but instead, would use the opportunity to help bring hope and love to others in the community.  
"God gave me a gift. At first, I didn't realize it was a gift because I was fighting cancer. I have been able to meet so many wonderful people and it has given me satisfaction to be able to help them. I lived alone without family close by, but I have been volunteering at my parish for many years. Friends of the church were there for me," says Toni.
The Cancer Support Ministry serves patients, survivors, caregivers, family and friends. There is sharing and prayer as well as presenters from the medical community.
"We have nutritionists, oncologists and researchers from Moffitt, as well as priests and deacon," says Toni.
Members of the group assist others who are going through treatments. When some are too sick for chores, members will visit and help with shopping, doing laundry and household chores. The group also has wheelchairs and walkers available.
"I see it as helping anyone who needs help. If it's down to just one person, then we help," she says.
COVID has had an impact on all parish ministries including this one. The ministry had been on break because of the lockdown and when they started up again recently, three new people attended. In some meetings pre-COVID, they had as many as 24 attendees but now they are seeing about 14 members.
"I'm thankful to all the members of our ministry for the joy they've given me and others," says Toni.
While she is grateful for what she has received, she is also grateful for what she has given to others. She recalls being with a parishioner suffering from brain cancer and taking her communion every Wednesday until the end.
"I got there and found the daughter with her mother. The daughter and I stood there on each side of her and held her hand and prayed. A few minutes later she passed away and it was so peaceful. I think that was a blessing for me. God let me know that it's ok not to fear death," says Toni.
To find out more about this important ministry visit https://stmarktampa.org/cancer-support-ministry