"Caring for All of Humanity" -Partnership that Helps the Homeless is Recognized for Excellence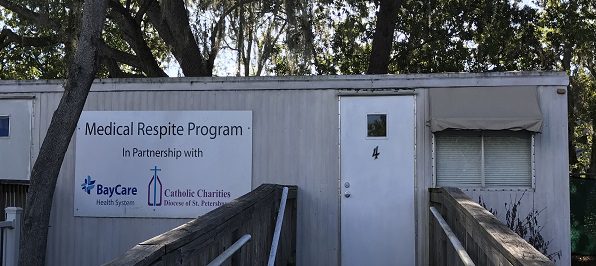 On Oct. 24, the Florida Hospital Association recognized Baycare with a Community Benefit Achievement Award for their Medical Respite Program located at Pinellas Hope.
If a homeless patient is ready to be discharged from one of four BayCare hospitals, but still needs medical assistance, the patient can stay at the Medical Respite Center of Pinellas Hope to receive additional care. The BayCare Medical Respite Program provides housing, medications and other healthcare services to support patients' recovery.
St. Anthony's Hospital opened a 10-unit Medical Respite Center within Pinellas Hope in 2009. St. Anthony's operates the program in collaboration with Catholic Charities, Morton Plant Mease Health Care and BayCare.  St. Anthony's also has received grants from Allegany Franciscan Ministries to help operate the program.
Each Medical Respite client resides in a casita, a small one-room housing unit, and receives daily care and support. Some clients simply need a stable place to regain their strength while others need continued medical treatment. Clients who need such services as wound care, IV antibiotics or other medical treatment receive visits from BayCare Home Care Services.
Before a client is discharged from the program, an appointment is established for the client with a primary care provider and ensures access to prescribed medications. Each client moves into some type of housing, including the Pinellas Hope camp if needed. The program has assisted more than 320 clients.
"That's why it's (called) Pinellas Hope. It gives hope to people who have maybe lost some of it and it's our way of caring for all of humanity," said Sr. Mary McNally in a video interview (below). Sr. Mary is St. Anthony's Hospital vice president of mission who oversees the coordination of the Baycare Medical Respite Program.