Catholic Bishops of Florida Honor Helen Aguirre Ferré with Distinguished Catholic Leader Award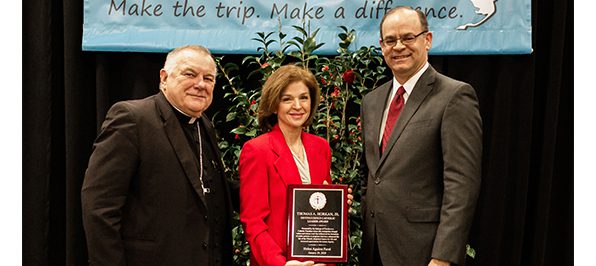 Helen Aguirre Ferré was honored today by the Catholic bishops of Florida with the Thomas A. Horkan, Jr. Distinguished Catholic Leader Award.
The Distinguished Catholic Leader Award is presented to a Catholic Floridian whose life and work has deepened respect for life and increased appreciation for the human dignity of the people of Florida. The award is named for and was first presented in 1995 to Thomas A. Horkan, Jr., founding executive director of the Florida Catholic Conference. Ferré is the ninth recipient since the award's inception.
Ferré is an award-winning, bilingual and bicultural journalist and communications specialist. She has served our nation as the director of media affairs at the White House, and is currently the director of communications in the Executive Office of Governor Ron DeSantis.
Outside of her professional life, Ferré's record of community service is profound, and her recognitions and awards are numerous. She founded two outstanding organizations: CODeLLA, an internship/coding immersion program for middle school Hispanic girls in underserved communities; and Operation Saving Lives, a humanitarian task force that was instrumental in bringing relief to hurricane victims in Central America.
Michael Sheedy, executive director, Florida Conference of Catholic Bishops, presented the award to Ferré at a Catholic Days at the Capitol breakfast held in Tallahassee during the Florida legislative session. "The Catholic faith we share has inspired her in her family life, her professional life and in her service to broader communities," said Sheedy. "Perhaps the tag line on her Twitter account says it all, 'Faith, Family and Florida.'"
Ferré has been recognized as a distinguished alumna of Archbishop Curley/Notre Dame Academy in Miami and Barry University in Miami Shores. Ferré serves as an advisory board member to the Angels of Mercy at Mercy Hospital and the Mater Center. Additionally, she was the first woman to chair the board of trustees of Miami-Dade College. In 2016, she was named to the Florida Women's Hall of Fame.