Catholic Charities Courageously Cares for People with Nowhere Else to Turn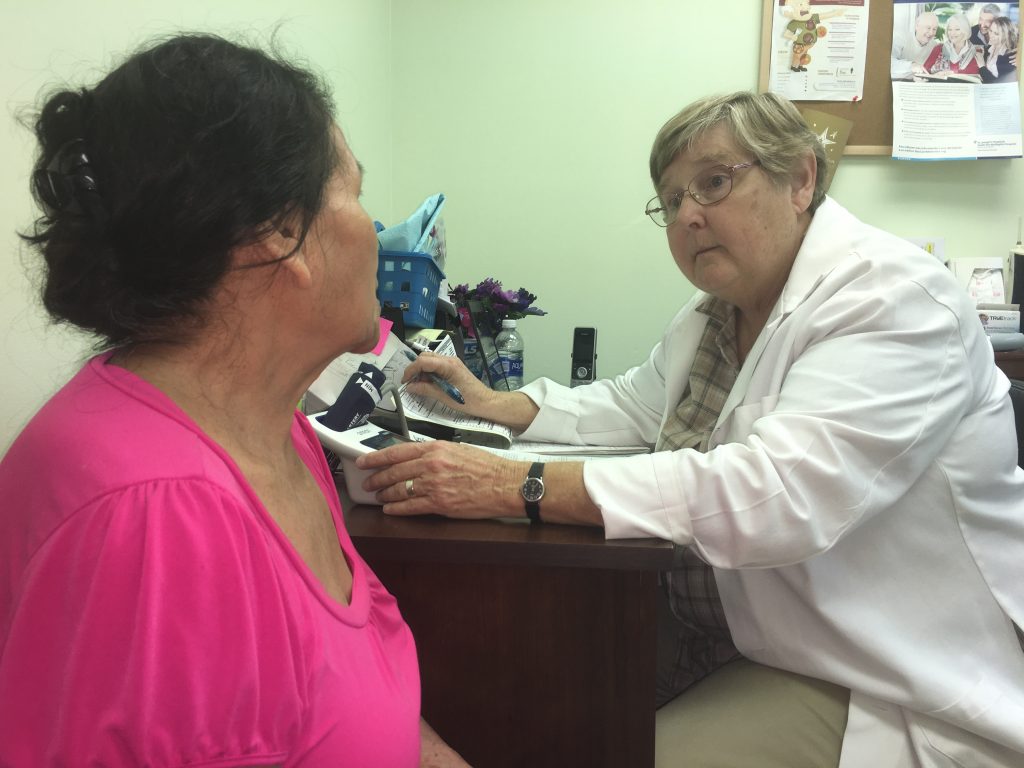 Nothing stops Sister Sara Proctor from providing medical care to the poor of our community in the rural areas of Hillsborough and Pasco Counties. As the Program Coordinator for Catholic Charities Free Medical Clinics, she oversees four clinics that are focused on serving agricultural and seasonal workers who have severe challenges in obtaining the health care they need. They have limited transportation, time and financial resources.
The clinics operate for free but donations are accepted and placed into a simple coffee can.
Most of the clinics operate in the evening since farm workers but must work in the fields to earn a living. They do not receive sick pay and usually work until dusk, so they can only see a doctor at night.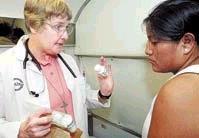 The clinics are strategically placed in locations most accessible to those needing services. Many cannot travel to the metropolitan hospitals, so the clinics are placed close to their work. Locations include a mobile vehicle and a temporary clinic in Wimauma with permanent clinics in Dover and Dade City. A seasonal clinic is located in Oldsmar at the Tampa Day Downs Racetrack (home to horse racing in the area) to serve track workers, jockeys, and others in the community who need basic health care services. The work is done in collaboration with Baycare Hospital System and St. Joseph Hospital South.
"Many of the track workers are transients just like our agricultural workers and their access to healthcare is on par with the agricultural workers," explained Sister Sara, who is a member of the Daughters of Wisdom religious community and a Certified Physician Assistant. The services here are only offered November through April during the racing season.
The number of clinic visitors varies daily, depending on the harvest season. Most agricultural workers are in the region from late fall through mid-spring. Clinics may see anywhere from 5 to 25 patients each evening. Registration runs from 5:00 p.m. to 7:00 p.m. and the office stays open until the last client is seen.
Volunteer physicians come from as far away as Ohio to serve. Walk-up medical appointments are welcomed and specialties by appointment including GYN, ophthalmology and dermatology are also accepted.
To benefit from the support of the PGA for local charities (matches 15% of each $1 donation), Catholic Charities Free Medical Clinic Mission ministry/program is participating in the Birdies for Tampa Bay Charities fundraiser coinciding with the Valspar PGA Golf Tournament being held in mid-March.  Donations must be received by May 1st to be eligible for the PGA donation match. To participate in the optional contest, submissions must be received by the start of the tournament (March 19th at 11:00 a.m.).
For a fundraiser overview, visit valsparchampionship.com/charity/birdies-for-charity/. To learn the details on how to support Catholic Charities Free Medical Clinics through this event, text the word "birdies" to 91999 and follow the prompts.
For details on this important ministry and how to support it, visit www.ccdosp.org/catholic-charities-free-medical-clinics.