Catholic Schools Week 2016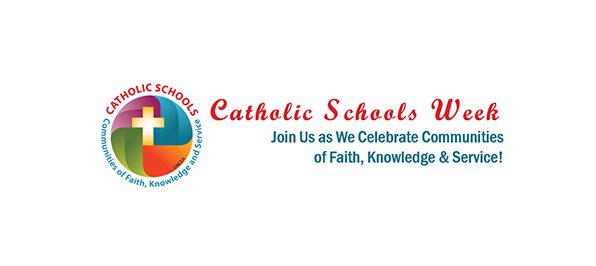 From January 31 to February 6, Catholic schools in the Diocese of St. Petersburg will celebrate Catholic Schools Week. This week marks an annual celebration of Catholic education in the United States.
This year's theme is "Catholic Schools: Communities of Faith, Knowledge and Service." Schools will observe the celebration with Masses and activities for students, parents, and the community. Through these events, schools will focus on combining faith, knowledge and service to contribute to the Church, the local community, and the nation.
2016 Catholic Schools Week around the Diocese Photo Album
The following are some of the activities taking place:
– Bishop Larkin Catholic School students will collect food items for St. Vincent de Paul and have uniform members of the community speak/read to the students.
– Bishop McLaughlin Catholic High School students will collect baby items for pregnant mothers in need.
– Blessed Sacrament Catholic School students will collect stuff animals to donate to the Sheriff's Department.
– Clearwater Central Catholic High School will hold a school Mass and dress down with proceeds going to local organizations.
– Espiritu Santo Catholic School students will create rapid relief bags for homeless
shelters, hold a blanket drive, and create packages for hospitalized children.
– Morning Star Tampa will host a breakfast for grandparents and the students will make thank you cards for seminarians and the volunteers and therapists who work at the school.
– Mother Teresa of Calcutta Catholic School students will write letters to their parents thanking them for the gift of a Catholic education. They will also select a service activity to complete.
– Nativity Catholic School will hold a school wide collection of canned goods.
– Notre Dame Catholic School will hold a special Mass for students, parents, and the community.
– Sacred Heart Catholic School will host an all-school Mass and special Grandparents Day celebration.
– Saint John Paul II Catholic School students will make cards for the troops.
– St. Anthony Catholic School will create Valentine's Day cards for veterans.
– St. Cecelia Catholic School will be collecting diapers and baby wipes for Kimberly Home.
– St. John Vianney Catholic School will make care bags for families at the Ronald McDonald House.
– St. Lawrence Catholic School will put together bags of food for families in need.
– St. Paul Catholic School will host a student appreciation dress down day with proceeds going to St. Paul's twinning parish in Haiti for library and school supplies.
– St. Petersburg Catholic High School will hold a blood drive.