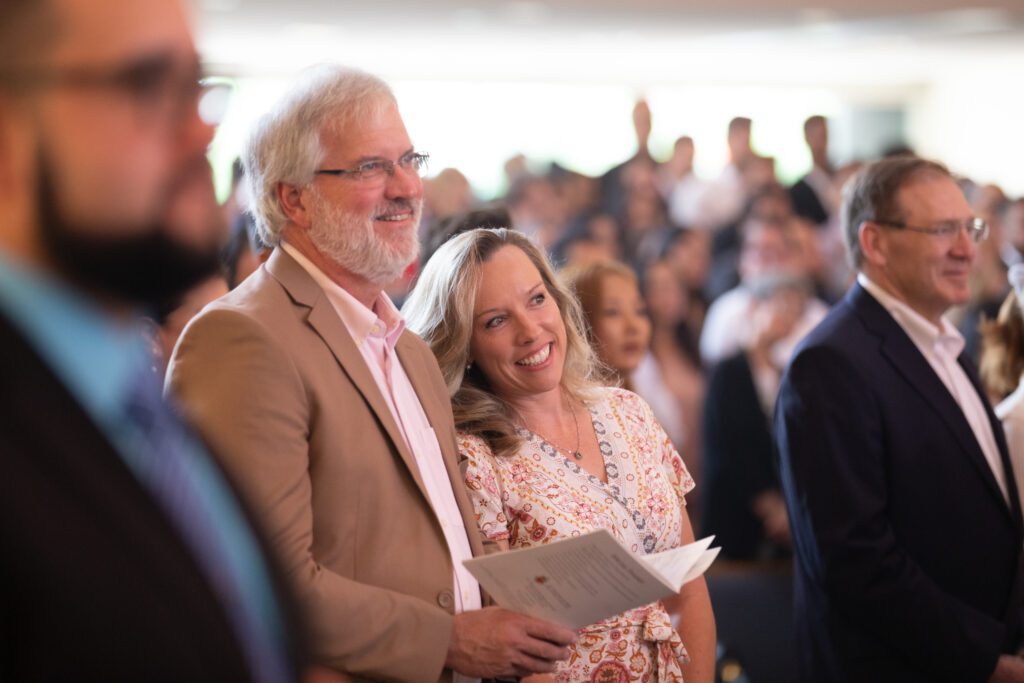 More than 3,300 people from across the Diocese of St. Petersburg participated in a survey last fall, sharing feedback to assist us in launching the Catholic Ministry Appeal.
Below are the highlights and results of the survey:
Most people who responded believe supporting shared, larger ministries is a vital part of keeping the Catholic faith alive in our diocese.
"Support for Catholic Schools and Centers, Faith Formation, and Inviting Others Into Our Faith" was chosen as the most important reason to give to the appeal, though many reiterated that all reasons given were important and necessary.
38% of respondents are interested in learning more about "affordable housing, assistance for the homeless and medical assistance programs."

51% of respondents chose a logo featuring a stained glass window with the symbol of the Holy Spirit, the dove. However, they also shared the dove needed to be rising to the sky instead of down. It was very important to us that our new appeal reflects the feedback our respondents shared, so we incorporated what we learned into our final materials.
The most common questions they asked were:
"You say "100% of funds will directly support ministries" with this new appeal. How is that different than the Annual Pastoral Appeal (APA)?"
The goal for the APA was set to fund the entire net budget of the Pastoral Center. As such, it funded the organization and implementation of diocesan ministries, programs, and services, along with the leadership, administrative and business functions needed to offer them such as accounting, finance, tech support, human resources and the Office of the Bishop. While these are important functions and provide much needed services, we received feedback from pastors, parish staff and donors over the years that they preferred the annual appeal to support only ministry, program, and outreach services.
Based on this feedback, and extensive research, planning and prayer, Bishop Parkes and the Appeal Task Force proposed a new plan. Under the new plan, administrative and business functions listed above will not be funded through the Catholic Ministry Appeal. Therefore, 100% of donations will go directly to ministry, programs, and outreach affecting people, communities, parishes, and schools. This includes pastoral outreach and service, formation, worship, discipleship and vocations. Additionally, donors will now be able to direct their donation to a specific ministry they may wish to support.
"Is this fund in addition to, or instead of APA?"
APA will end after this year. Starting in 2022, funds for diocesan ministries, programs, and services will come directly from the Catholic Ministry Appeal. Our goal for our first year will be about $7 million total. If we exceed our goal our ministries can grow and expand to further support our community. However, the goal is not a tax if not reached, which is a significant change from APA. If an individual parish does not reach their goal, they will not be assessed the balance. Therefore, ministries supported by the Catholic Ministry Appeal will live within the funds raised each year.
"What do you mean by "shared ministries"?"
The survey referred to "shared ministries" when asking respondents why they are willing to support the Catholic Ministry Appeal. "Shared ministries" are those that cannot be supported by one parish alone and serve the entire Diocese. Examples include the Bethany Center, Spirit FM, Catholic Charities and priest retirement.

Once again, we thank all survey participants for sharing their thoughts with us. We are extremely grateful for all prayers, generosity, and continued commitment to our diocese, and we look forward to another successful year of our Catholic Ministry Appeal!
This ministry is supported through gifts to the Catholic Ministry Appeal.