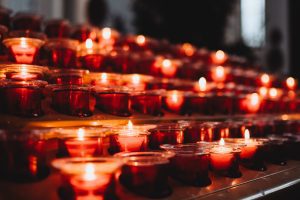 Cathryn June Bondar peacefully entered eternal life on June 5, 2021 with her devoted husband by her side. Cathi was born November 30, 1955 in Hanover, New Hampshire to the late John and June Schweitzer.  She moved to Florida after graduating college and accepted a position at St. Patrick Church in Largo, Florida, during which time she founded and ran St. Patrick Food Pantry.  She worked for St. Patrick Church for over 42 years, started her own bookkeeping and financial consulting business serving many parishes in the Diocese of St. Petersburg. Her dedication was duly noted by many pastors and parish managers. 
Cathi is survived by her loving husband George, her brothers John and Peter, his wife Ana Maria and daughter Maria Juliaas as well as her sister Heidi and husband Bill; brother-in-law, Leslie Bondar and his wife, Lori Bondar; Mother-in-Law, Marie Bondar as well as niece and nephew, Carly and Kevin Bondar.  She was predeceased by her parents John and June Schweitzer and nephews Daniel Schweitzer and Craig Bondar.
Visitation will be held on Tuesday, June 15, 2021 from 5 pm – 8 pm at Serenity Funeral Home, 13401 Indian Rocks Road, Largo.  Mass of Christian Burial will be held on Wednesday, June 16th at St Jerome Catholic Church, 10895 Hamlin Blvd., Largo, at 11 am.  Committal Service will be held at 12:30 pm at Serenity Garden Memorial Park, 13401 Indian Rocks Road, Largo . Reception will be held on June 16th 2021 at 1:00 pm at Serenity Funeral Home.
In lieu of flowers, donations may be made to La Clinica Guadalupana, 1020 Lakeview Rd. ,Clearwater, Florida 33756 or St. Jerome Catholic Church, 10895 Hamlin Blvd., Largo, Fl, 33774
For the complete obituary, please follow this link:  https://bit.ly/3xcnVQS.

+++++
May her soul and the souls of all the faithful departed
by the Grace of God, rest in peace!