Celebrating 60 Years of Priestly Ministry
In 2019, 3 priests in the Diocese of St. Petersburg will celebrate the 60th anniversary of their ordination. They will be recognized by Bishop Parkes during the annual Chrism Mass on Tuesday, April 16. They are: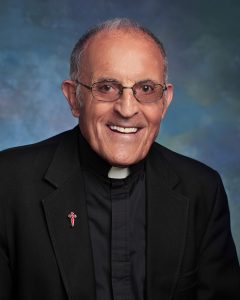 Rev. Msgr. Antonio Diez
He was born in Robledo de la Valduena, Spain and was ordained for the Diocese of St. Augustine on June 21, 1959, becoming a priest of our diocese shortly after its establishment in 1968.  He was the founding pastor of Resurrection Parish, Riverview, where he served from 1983 until his retirement in 2011.
---
Rev. Thomas Jones, O.F.M.
He was ordained for the Franciscan Order of Friars Minor on April 25, 1959.  Among his various assignments, he worked as a missionary in Brazil.  He came to the Diocese of St. Petersburg in 2014 after serving as a pastor in the Archdiocese of New York.  He resides with his Franciscan brothers at St. Anthony Friary, St. Petersburg and currently assists with the Brazilian community in St. Paul Parish, Tampa.
---
Rev. Raymond C. Mann, O.F.M.
He was born in Buffalo, New York and was ordained for the Franciscan Order of Friars Minor on April 25, 1959.  He also resides at St. Anthony Friary and came to our diocese in 2014, after serving in various capacities, including as a missionary priest in Bolivia.  Father Mann has authored several different articles, including a 2008 submission in Commonweal magazine entitled: "The Empty Box: Why Catholics Skip Confession."