Clergy Appointments ~ February 21, 2023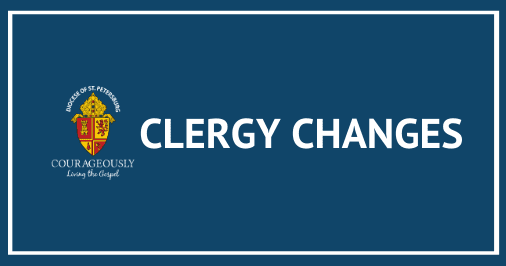 Most Reverend Gregory Parkes, Bishop of St. Petersburg, announces the following clergy appointments:
Appointments
Reverend Daniel D. Bot [Abuja, Nigeria], to Parochial Vicar of St. Ignatius of Antioch Parish, Tarpon Springs, effective February 14, 2023.
Reverend Raju Chebattina [Chalottetown, PE, Canada], to Parochial Vicar of Our Lady of the Rosary Parish, Land O'Lakes, effective February 20, 2023.
Upon notification by Very Reverend Joseph O'Reilly, Provincial Superior, Institute of Charity (Rosminian Fathers), Reverend Alfred Kimaryo, I.C. to Parochial Vicar of St. Francis of Assisi Parish, Seffner, effective March 7, 2023.