Clergy Changes ~ November 21, 2022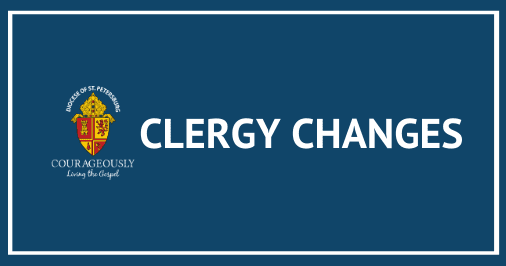 Most Reverend Gregory Parkes, Bishop of St. Petersburg, announces the following changes in clergy changes:
RELIEVING
Reverend John B. Lipscomb from Parochial Vicar of St. Timothy Parish, Lutz, effective January 1, 2023, and continuing other assignments.
Upon notification by Very Reverend Joseph O'Reilly, Provincial Superior, Institute of Charity (Rosminian Fathers), Reverend Bibin Mathew, I.C. from Parochial Vicar of St. Francis of Assisi, effective November 1, 2022. Father Mathew has returned to India, where he is providing ministry on behalf of his Province.