Community Reacts with Joy and Tears to the News about Bishop-Elect David Toups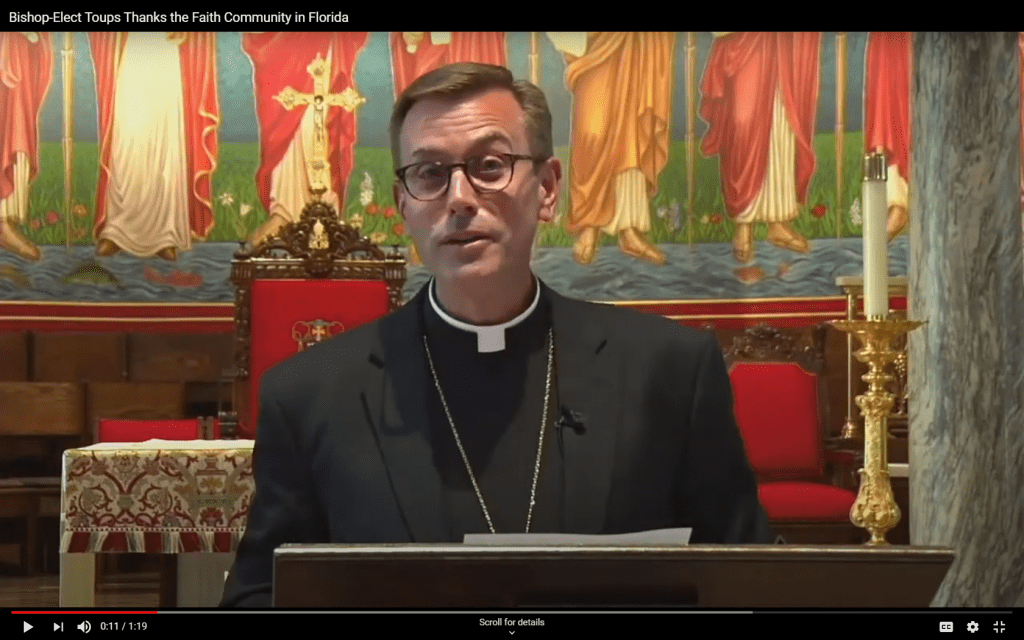 Following the pre-dawn announcement of Bishop Elect David Toups as the 6th bishop of the Diocese of Beaumont on June 9, 2020, reaction from his home Diocese of St Petersburg included both elation and sadness.  The 49-year-old Bishop-Elect will be the youngest non-auxiliary, diocesan bishop in the United States. Parishioners, seminarians and co-workers alike have fond memories and wish him well on this new chapter in his life
Current Vocations Director for the Diocese of St Petersburg, Father Chuck Dornquast took the news by surprise. "I was drinking my coffee, reading the paper and got an email about 6:10 a.m. and it's been an exciting day ever since." Father Dornquast spent five years as a student under Bishop-Elect Toups.
"He is an incredibly sincere, authentic, deeply spiritual, great leadership-minded priest who loves his priesthood. He loves the people of God and he is particularly talented at being able to accompany and mentor us in seminary and to really shape St. Vincent de Paul Regional Seminary even more into a great institution for forming future priests."
"I was not surprised he was appointed bishop," says Father Len Plazewski, pastor of Chris the King Catholic Church in Tampa. "I think he certainly has many gifts and talents that can be used in the wider Church. I didn't know he was going to be appointed bishop of Beaumont, Texas." Bishop-Elect Toups preceded Father Plazewski as pastor of Christ the King. Father Plazewski also served as Vocations Director for the Diocese of St. Petersburg, sending seminarians to St. Vincent de Paul Regional seminary where Toups served as rector. "He's bright, very personable, very prayerful. He's a great man of the Church. I just think he's got so many gifts. He's the kind of person you'd want leading a diocese."
Transitional Deacon Connor Penn remembers seeing Bishop-Elect Toups at prayer after Mass and after breakfast where he would spend an hour in the chapel in prayer. "To me that was the biggest lesson – to be rooted in prayer, to be a man of prayer, and that the day had to begin with prayer," said Deacon Penn, who is scheduled to be ordinated a priest on August 15, 2020, a week before Bishop-Elect Toups will be ordained and installed as bishop of Beaumont on August 21.
Bishop-Elect Toups also serves as Godfather to Olivia and Eric Hoegstrom's middle son, Fulton.  Olivia, an announcer with Spirit FM was moved to tears at the announcement.  "I have mixed emotions.  But he's so gifted that I feel the diocese of Beaumont has won the lottery."  St. Frances Cabrini in Spring Hill was Bishop-Elect Toups's first assignment back in the late 1990s where Olivia attended.  Monsignor Toups collaborated with Olivia on the broadcast of Pope Benedict XVI's papal visit to the United States
As with any departure of leadership, there is always some sense of sadness. Father Dorquast will use this as a teaching moment for the seminarians of our diocese.
"It's an opportunity to remember with confidence and trust that the Holy Spirit works. That the Lord is constantly working for the good of individuals and for the good of the Church so to encourage them not to get nervous, not to get anxious, but to remember the Lord is doing wonderful things and will continue to provide for them and their formation; to know that God the Father never abandons them, and will continue to provide for them and lead them."
In the photo above, Bishop-Elect Toups speaks at a press conference on June 9, 2020, at the St. Anthony Cathedral Basilica in Beaumont. To view his heartwarming message to the Diocese of St. Petersburg, click here.