Congratulations to Monsignor Anton Dechering, Recipient of the 2018 Fr. Luis Distinguished Priestly Service Award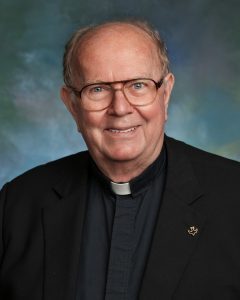 A retired priest with 56 years of dedicated service was honored with the 2018 Father Luis Distinguished Priestly Service Award on October 2, 2018. He is the 22nd priest in the Diocese of St. Petersburg to be honored with this award.
In addition to serving as a priest and pastor, Monsignor Dechering has also ministered to young people as a teacher and as the Director of Scouting and Chaplain for the Boy Scouts and Girl Scouts for the Diocese of St. Petersburg. Because of his strong commitment to young people of the Diocese, Monsignor Anton Dechering was selected to be this year's award recipient during the annual Convocation for Priestly Renewal, held at the Bethany Center. The theme for this year's Convocation is focused on youth: "Church of Today, Hope of Tomorrow: 21st Century Youth Ministry."
Monsignor Dechering was unable to attend the award presentation due to illness. However, he received a surprise call from Bishop Gregory Parkes via speaker phone to hear the good news in front of all priests attending the convocation. He thanked Bishop Parkes and said he was honored by the recognition. Monsignor John Neff, who received the honor in 2006, accepted the award on behalf of Monsignor Dechering.
Ordained for the Diocese of St. Augustine on December 19, 1962, in the Church of Cristo Rey, in Rome, Monsignor Dechering served as Assistant Pastor of parishes in Tallahassee and Bradenton, as well as for the Cathedral Parish of St. Augustine.
In 1968, he was incardinated into the newly established Diocese of St. Petersburg. After serving for three years as Pastor of St. Paul Parish, in Arcadia, Monsignor Dechering was assigned to St. Raphael Parish, St. Petersburg, where he led the community as its Pastor from 1971 to 1996. He was subsequently appointed Pastor of Blessed Trinity Parish, St. Petersburg, where he faithfully served for 17 years until his retirement on July 1, 2013.
In August 1999, at the request of Bishop Robert Lynch, Pope John Paul II conferred the title Prelate of Honor of His Holiness upon Monsignor Dechering.
Throughout his nearly fifty-six years of priestly ministry, Monsignor Dechering has also assisted in numerous diocesan positions. Among them, he has served as Chaplain for the Southern Deanery of the Diocesan Council of Catholic Women, Diocesan Coordinator for the Charismatic Renewal, and Trustee of the Diocesan Pension Board. In addition, he has served as Diocesan Director of Scouting and as Chaplain for Catholic Scouting for Girls since 1971.
Learn more about the establishment of the Fr. Luis Distringuished Priestly Service Award and previous recipients here.