Courageously Saying "Yes" to God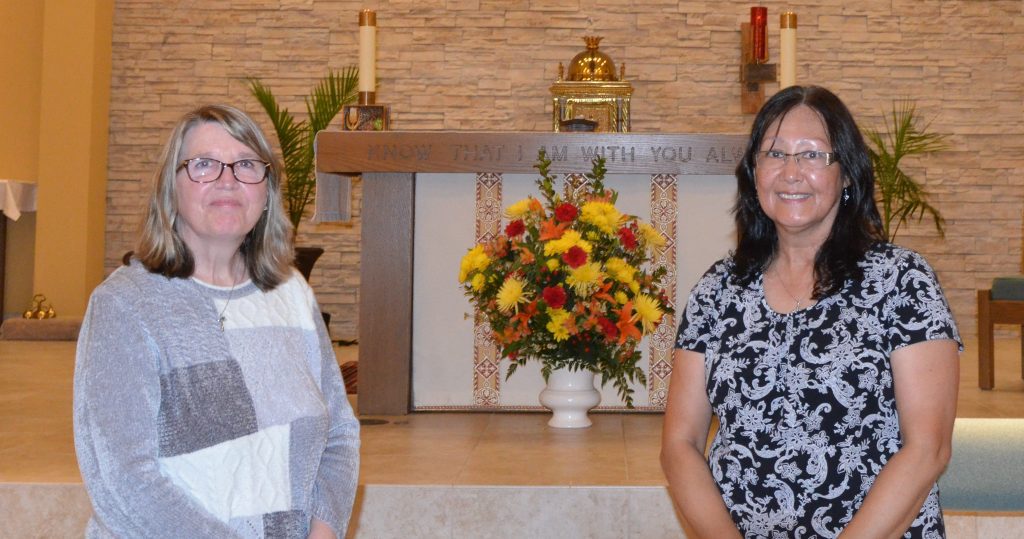 Cheryl Jane Miller is an extraordinary minister of Holy Communion at St. Matthew Parish in Largo. She brings communion to the local nursing homes and she is a Bible study small group leader with SEASONS (Sisters Encouraging And Sharing ON Scriptures). But she wasn't always so active in ministry and for many years she let fear and insecurity keep her from growing in faith and service. She recently shared her story at a SEASONS night of reflection on how ministry members are Courageously Living the Gospel, especially when fears, concerns and stresses interfere with the joy of being a beloved daughter of Christ.
"I remember hearing that there was a need for Ministers of Holy Communion and my daughter said, 'Mom, you can do this.' So, I just found the courage and I did it. The night before my very first time, I couldn't sleep! I thought I was going to drop everything and trip over the stairs or myself," recalled Cheryl Jane, who went on to say that her first "yes" to step out in faith, soon led to others.
"Even just coming here tonight to share my story, I didn't think I could do it. I've come to realize that all of this fear that I had, it's not as tough as it seems," said Cheryl Jane.
Kathy Rankin, SEASONS ministry leader and host of the event at St. Matthew in Largo, agreed, saying that fear is a liar that keeps us from doing God's will but that courage means moving forward even when we're afraid.
She led those gathered in the diocesan Courageously Living the Gospel prayer which asks God for the courage to live as disciples. Kathy encouraged the women to draw strength and inspiration from the Blessed Virgin Mary, whose "yes" to being the mother of God would change the world. She reminded everyone that cooperating with God's will, even in small ways, can have far-reaching effects that may never be fully known.
"So often when you do something and you act in faith, then Jesus actually takes over," said Kathy. "Your 'yes', as little as it may seem, leads to another 'yes.' That ends up being powerful. It's like a little stone that you throw in the water that has those ripple effects."
Kathy and Cheryl Jane acknowledged that giving a "yes" to God can be difficult when feeling overwhelmed or weighed down by stress. During a few rough years in which Cheryl Jane's family experienced the death of a family friend, her husband's unexpected job loss, multiple car break-ins, and a daughter's hospitalization, Cheryl Jane felt far from God and stopped attending Mass.
It was after her co-workers offered to pray with her that things began to change. She returned to church and accepted an invitation to the SEASONS ministry. She was gifted a Bible and began to understand the Word of God more deeply. She came to realize that God had never left her, she just needed to ask for his help and accept his love. She calls it an "amazing journey" that allows her now to be able to help others.
"Prayer, of course, reading the Bible, talking with a friend about your fears, and listening to that voice within you for guidance. Those are my tools for fighting life's battles," said Cheryl Jane. "I've learned to pray from my heart to not be so fearful, and it gives me courage to tackle whatever comes out in front of me."
As the women of the SEASONS ministry learned, with courage and trust in God, anything is possible.
"God is aware of all that He can do with us and is seeking to draw us, every single one of us, into his mission of sharing the Gospel," said Kathy, "Even if you think, 'I'm just a little person, just a nobody,' it's like the mustard seed and you can be used. The question for us to ponder today is whether or not we respond to the ways that God has spoken and invited us to serve Him with our life."