Deacon Drew Woodke Has Thought About Priesthood Since Third Grade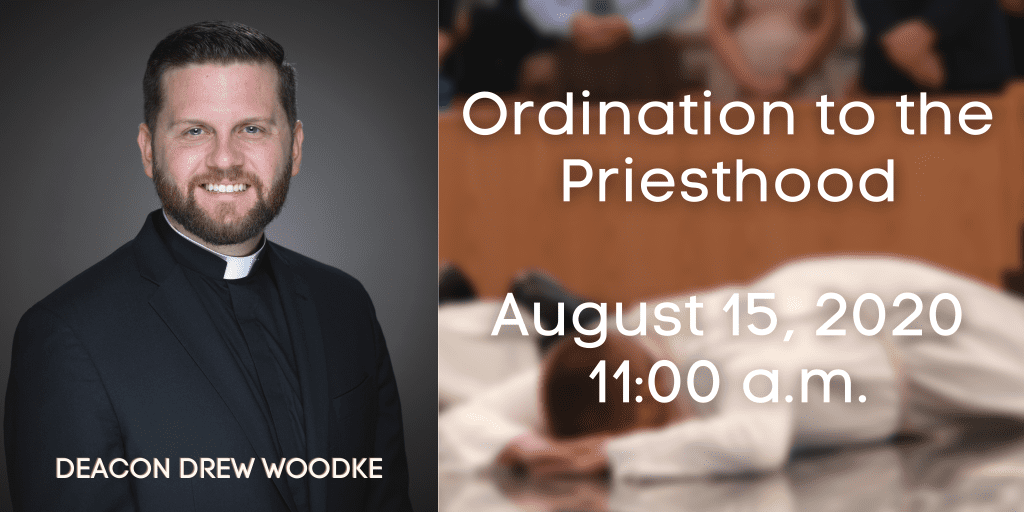 When Deacon Drew Woodke was a third-grader at St. Thomas More Catholic School in Decatur, Georgia, one of the nuns asked him what he wanted to be when he grew up. Deacon Drew recalls answering, "I want to be a priest when I grow up because girls are gross!"
Well, fourth grade arrived and girls weren't all that "gross" anymore but his desire to become a Catholic priest persisted.
Listening to God's voice through patient prayer was essential for realizing the vocation to which God was calling him. "It's not just one prayer, it's a body of prayer, it's turning your life into a prayer," said Deacon Woodke.
As a sophomore at Franciscan University, one prayer experience in particular stood out. He attended a charismatic spiritual retreat and of the retreat leaders prayed over him.
"I remember him praying over me and saying, 'you know Drew, I feel like the Lord is calling you to something deeper, and I think you know what it is and he just wants you to open your arms and trust,'" Deacon Woodke recalled.
After the retreat, he went back to his room and prayed, "Alright God, I don't know what the future holds but if you want me to do this, I'll give it a shot. It was at that moment that I felt great interior peace," said Deacon Woodke.
Walking this journey to the priesthood has helped his family also grow closer to Christ and trust in His will. Deacon Drew's mother, Barbara Woodke said, "I've learned more and I think our faith has definitely deepened. It's amazing how God has led him to this point, but He's leading us also."
His father, Bob Woodke adds, "I try to make it to daily Mass, and I think it was from the example Drew set way back when."
Many were instrumental in fostering Deacon Woodke's vocation. "I owe a lot to my high school youth minister, Ed Lugo. He was very authentic in his faith and didn't make it a wishy-washy, pie in the sky thing. He showed authentic faith and how to live it out in a real way, in a way that was appetizing and interesting. One of my good friends is Father Jonathan Stephanz who has been a priest of our diocese for several years. We're the same age so I watched him go through that early process."
Deacon Woodke, who grew up in the Brandon area, also notes that Father Arthur Proulx and Father Bill Swengros were influential in his vocation.
Deacon Woodke enjoys mountain biking and trail riding, golfing, running and most sports. He's a hometown sports fan following the Buccaneers, Rays and Lightning. As far as foods go, "you can't go wrong with a good steak and mashed potatoes," but will pass on the beets and Brussel sprouts.
Click here to listen to a radio interview with Deacon Drew Woodke that is airing on Spirit FM 90.5.
Deacon Woodke will join Deacon Joshua Bertrand and Deacon Connor Penn to be ordained to the priesthood on Saturday, August 15, 2020, 11:00 a.m., at the Cathedral of St. Jude the Apostle, St. Petersburg. Due to spacing limitations resulting from the current COVID-19 pandemic, the Ordination Mass will not be open to the public. However, all are invited to view the Mass via livestream on our diocesan website: https://www.dosp.org/livestream

Deacon Woodke's first assignment will be as Parochial Vicar of St. Timothy Parish, Lutz, effective August 15, 2020.