Memorial Mass – Rev. Callist Nyambo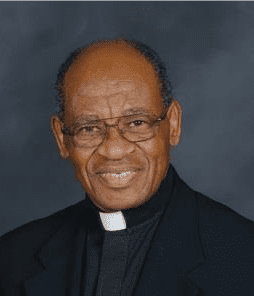 You are invited to attend a Memorial Mass for Rev. Callist Nyambo on Friday, January 22, 2016. The Mass will begin at 7:00 PM at St. Peter Claver Catholic Church located at 1203 N. Nebraska Ave, Tampa, FL 33602. 
Reverend Callist Nauli Nyambo, 76, a retired priest of the Diocese of St. Petersburg, died on Sunday, January 3, 2016, at Mease Countryside Hospital, Clearwater, after suffering a major stroke shortly before the New Year.
Father Nyambo was ordained for the Archdiocese of Dar es Salaam, Tanzania, on December 14, 1969. For nine years, he served as parochial vicar and pastor of parishes in Dar es Salaam and in the Diocese (now Archdiocese) of Arusha, Tanzania. He was also the Vicar General of the Archdiocese of Dar es Salaam from 1973 to 1976.
In 1978, he came to the United States, where he attended the Jesuit School of Theology, in Berkeley, California, receiving a Master of Sacred Theology degree in 1982. He then studied at the Catholic University of America, Washington, D.C., where he earned a Master of Arts degree in Religious Education in 1987.
Father Nyambo was the first African priest to serve in the Diocese of St. Petersburg, providing summer assistance to the parish communities of St. Joseph, St. Petersburg (1982) and Blessed Trinity, St. Petersburg (1986, 1987). His first full-time assignment was as Parochial Vicar of Epiphany of Our Lord Parish, Tampa (1988-1989, 1990-1991). While fulfilling the role of Director of the diocesan Office of Black Catholic Ministries, he served as Priest in Residence at Holy Cross Parish, St. Petersburg.
Following a stint as Parochial Administrator of St. Peter Claver Parish, Tampa (1992-1993), Father Nyambo was appointed as the parish's Pastor, from 1993 to 1997. He then spent six years as Pastor of St. Joseph Parish, St. Petersburg (1997-2003) and finally as Pastor of All Saints Parish from 2003 until his retirement in July 2013.
In addition to his parish and diocesan responsibilities, Father Nyambo served as President of the Florida Conference of Offices of Black Catholic Ministry, board member of the National Black Catholic Clergy Caucus, founding President of the African Catholic Clergy and Religious Association in the U.S.A., National Representative for the African Apostolate in the U.S., National Adviser of the USCCB Tanzanian Apostolate, board member of the USCCB Office of Pastoral Care of Migrants and Refugees and National Adviser of the USCCB Subcommittee on the Pastoral Care of Migrants, Refugees and Travelers.
In 2008, Father Nyambo was honored with the Archbishop Silvano Tomasi Award in 2008 by the USCCB Secretariat of Cultural Diversity for his dedicated service to migrants. And in 2012, he received the Servant of Christ Award from the National Black Catholic Congress in 2012.
All funeral services will take place at All Saints Catholic Church, 2801 Curlew Road, Clearwater. Arrangements are as follows:
Reception of the body and Evening Prayer: Sunday, January 10, 4:00 p.m.
Funeral Mass: Monday, January 11, 12:00 p.m.
Bishop Robert Lynch will be the main celebrant
All priests who wish to concelebrate should bring an alb and white stole.
Father Nyambo will be buried in Tanzania at a later date.
Please keep Father Nyambo's niece, Devota Nyambo, and all surviving family members and loved ones, including his dear friend, Father Hugh Chikawe, in your thoughts and prayers during this difficult time.
May his soul and the souls of all the faithful departed, through the mercy of God, rest in peace!