Diaconate Ordination – April 17, 2021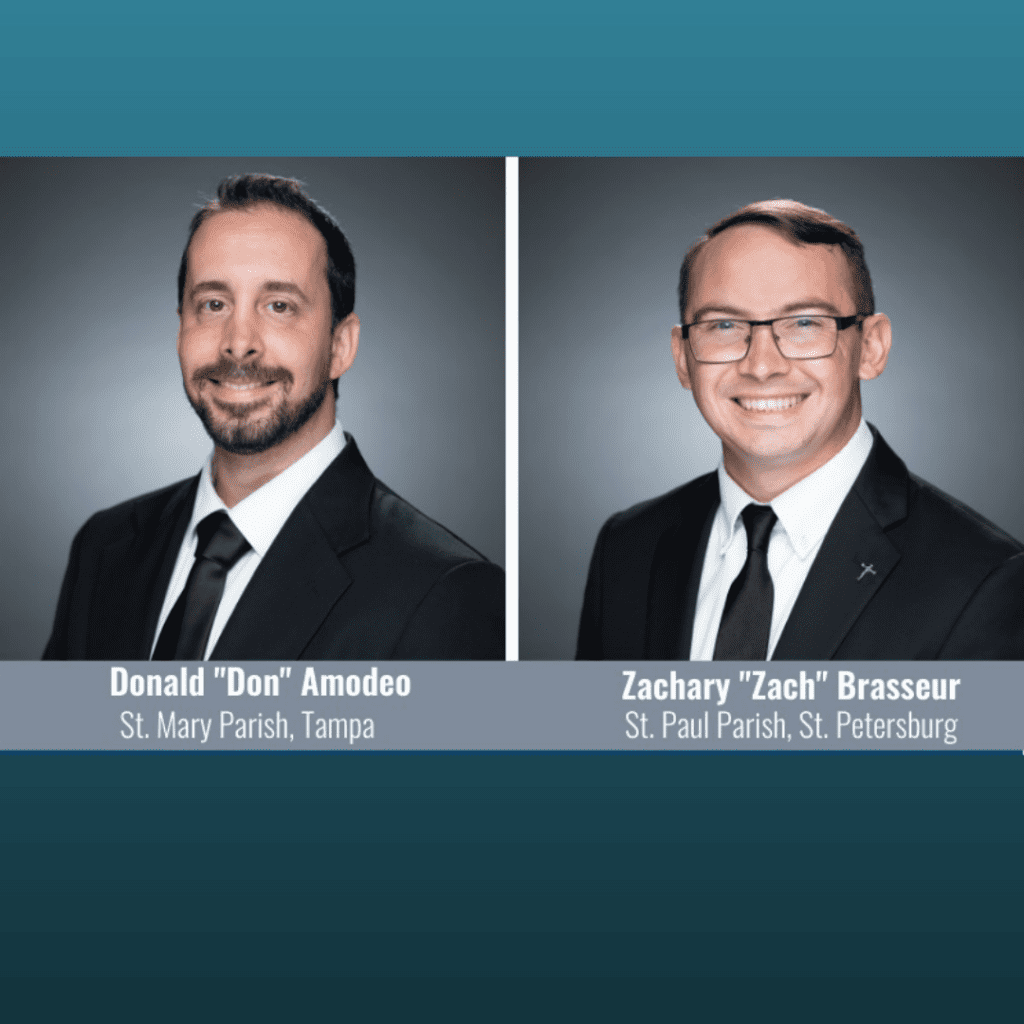 On Saturday, April 17, our seminarians Donald "Don" Amodeo and Zachary "Zach" Brasseur will be ordained transitional deacons at 11:00 am in Boca Raton. All are invited to watch the live video stream at http://svdp.edu/live or on St. Vincent de Paul Regional Seminary's Facebook page. You can also watch the Solemn Vespers on Friday, April 16 at the same links. Please keep Don and Zach in your prayers!
Below are brief biographies for both Don and Zach.
Donald Amodeo – Having just completed my pastoral year at St. Paul's Catholic Church in St. Pete, I find myself filled with a renewed appreciation for God's people and the inspiring community we are blessed to have here in our diocese. Returning to academic life will be a challenging change of pace, but I'm eager to dive into my final two years of seminary formation and serve those to whom Our Lord is calling me to minister. While I've lived most of my life in Florida, I was born in frosty Buffalo, NY to parents who knew and lived the Faith. I would later head back up north to the Franciscan University of Steubenville to discern the priesthood. I took some wonderful theology courses, yet ended up with a marketing degree, eventually channeling my creative energy into a successful startup business and authoring the afterlife adventure "Dead & Godless." But the Lord wasn't done with me yet! That old calling came back, and this time I said yes. As I begin my sixth year as a seminarian, I'm constantly met with new reasons to be grateful. It's an eventful time to be a Catholic, and I look forward to continuing the adventure with my fellow seminarians this year!
Zach Brasseur – was born and raised in St. Petersburg, where he grew up with his parents and three sisters. His family was involved in several parishes during his childhood before finally settling on St. Paul's in St. Pete. After graduating from St. Petersburg High School, Zach went to Saint Leo University to earn a Bachelor's Degree in history and theology. Because the Brasseur family was always so involved in parish life, Zach was blessed to be able to spend a lot of time around happy and holy priests which undoubtedly planted the seed of a vocation to the priesthood. College was the time when that calling began to take on a concrete shape. Through involvement in campus ministry, studying theology, and two summers working at Life Teen camp in Georgia, the Lord's voice became much clearer. The most attractive part of the priesthood for Zach is the priest's role as a mediator who leads people to encounter Jesus Christ. In his free time, Zach supports Tampa Bay sports teams (especially the Rays) and Leicester City Football Club. Musical tastes range from the Clash to Avett Brothers to Erik Satie. Zach also enjoys coffee and craft beer, and is pro-Oxford comma.