Diane Kledzik Receives Prestigious Alumni Award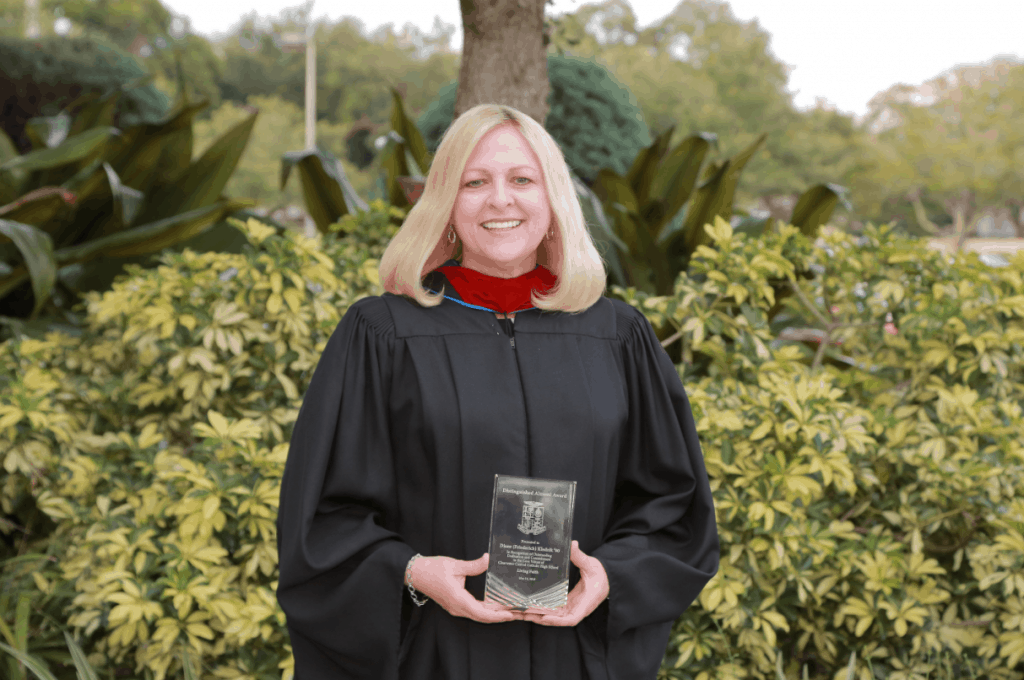 Diane Kledzik, the director of the Diocese of St. Petersburg Marriage and Family Life Office, recently received Clearwater Central Catholic (CCC) High School's Distinguished Alumni Award for her accomplishments in the area of "Living Faith."
Diane graduated from CCC in 1980 and she went on to earn a Bachelor's Degree in Human Resources with a minor in Religious Studies from Eckerd College and a Master's in Pastoral Ministry from St. Thomas University. She also earned a Certificate in Youth Ministry Studies and a Certificate in Advanced Studies from the Center for Ministry Development.
"We are pleased to recognize Diane's dedication to the Church by presenting her with the Distinguished Alumni Award for Living Faith," said Jim Deputy, Principal, CCC.
For 20 years, Diane served as Director of Evangelization for the Diocese of St. Petersburg. In 2018, she was named Director for the Office of Marriage and Family Life. Prior to her role at the Diocese, she served as Director of Youth Ministry at St. Jerome Parish, Largo (1984-1993), Director of Youth Ministry for the Diocese of Venice (1993-1997) and Co-Director of Youth Ministry at St. Margaret Mary in Winter Park.
Nationally, Diane has served on the United States Conference of Catholic Bishops Evangelization Secretariat's Executive Commission and the National Strong Catholic Families Team, and the boards of the North American Forum for Small Christian Communities (NAFSCC) and Paulist Evangelization Ministries. She also represents the NAFSCC on the Representative Council of the National Conference for Catechetical Leadership.
This past summer, Diane represented the Diocese on an immersion trip to Malawi with Catholic Relief Services. Previously, she helped develop several retreats and evangelization processes in the Diocese of St. Petersburg and the Diocese of Venice, including Teens Encounter Christ, Antioch, RENEW 2000, Disciples in Mission and Alpha.
A long-time member of a Small Christian Community at her parish, St. Patrick Catholic Church, Diane serves as an Infant Baptism Ministry catechist, a Youth Ministry Core Team member, and an occasional RCIA catechist and sponsor. At St. Patrick's, she served as PTO President of St. Patrick Catholic School (2013-2015) and was a member of the St. Patrick Catholic School Strong Catholic Families team.