Drive-thru Confession Offers Mercy and Peace to Parishioners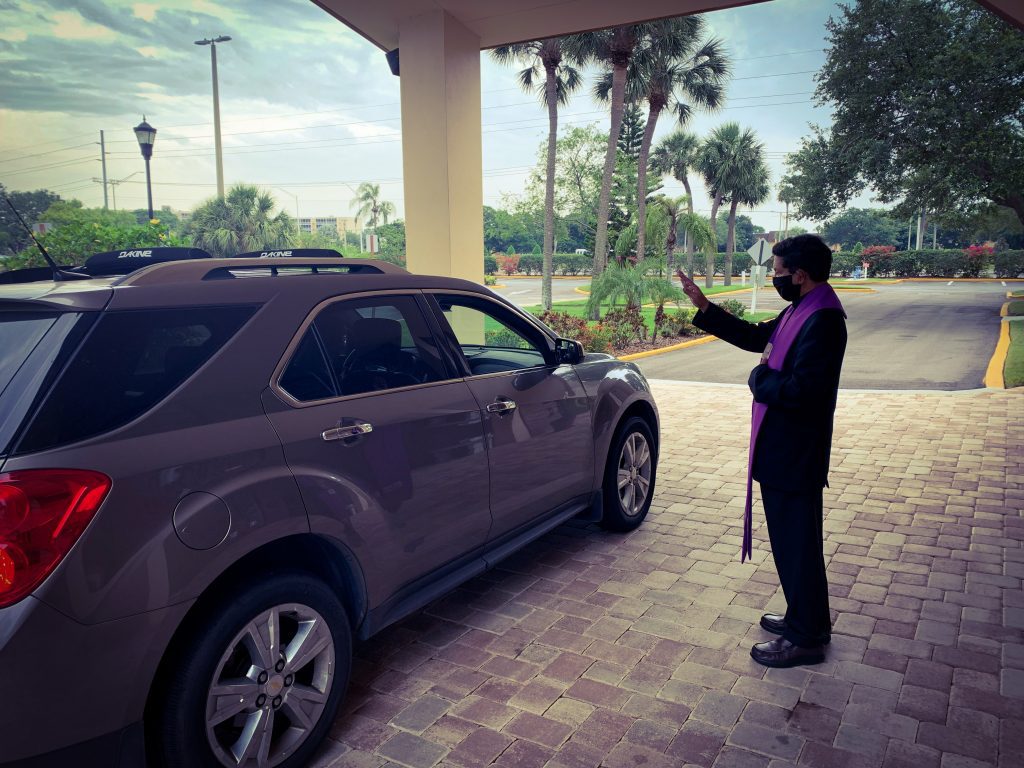 If Barb Caleca closes her eyes during the Prince of Peace livestreamed Mass and hears the familiar voices of the priests and cantor, she says she can almost imagine being present in the church, in the same pew where she and her husband have sat every week for the last six years.
Though grateful for the technology that makes it possible to participate in Mass from home, there is no substitute for being able to physically receive the sacraments. So, when the parish announced it would be holding drive-thru Confessions on Saturday, April 18 in preparation for Divine Mercy Sunday, Caleca was among the first in line.
"Personally, I was very relieved to be able to meet with Father in this very unusual means," said Caleca. "As I drove home, I felt great and very blessed to have been able to receive this sacrament. Not being able to receive the Blessed Sacrament as well as attend Mass in person, has left me with a hole in my heart. Receiving this sacrament was a true blessing."
In these unprecedented times, parishes are developing innovative ways to stay connected to their community and provide spiritual nourishment, all while carefully adhering to social distancing guidelines to prevent the spread of the coronavirus. At Prince of Peace Parish in Sun City Center, volunteers wearing face masks directed cars to either Father Joel Kovanis, Pastor, or Father Augustine Mailadiyil, Parochial Vicar, who also wore face masks. The volunteers also ensured that cars were kept at a suitable distance to maintain privacy.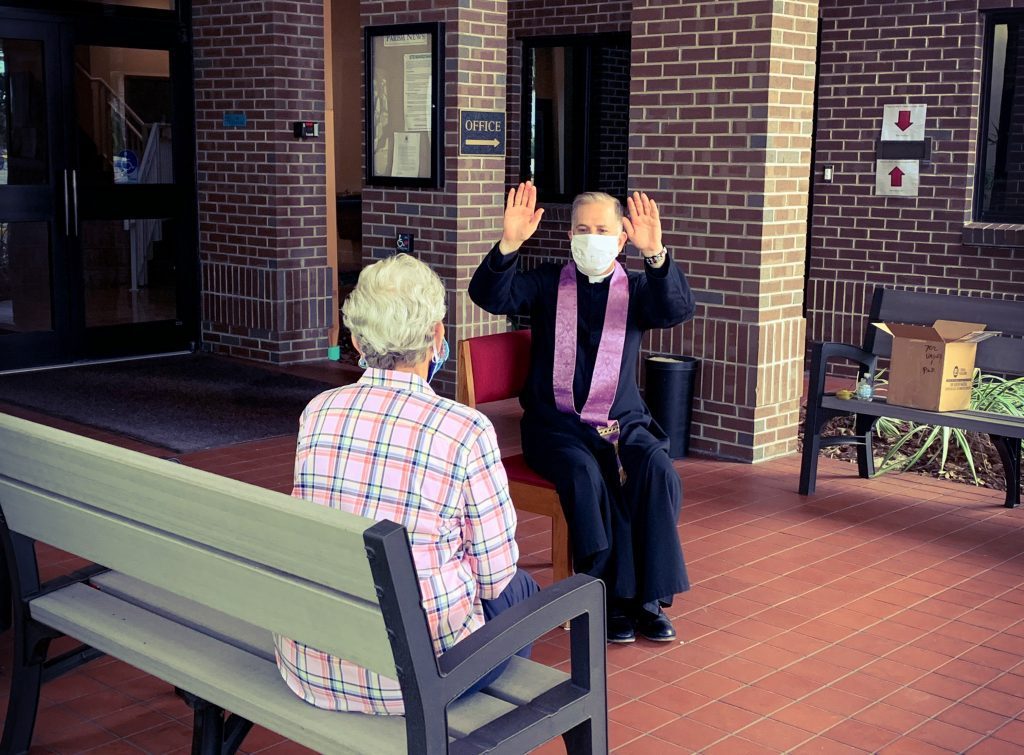 The priests heard confessions from outside the passenger side window, or if there was more than one person wishing to receive the sacrament, they were directed to exit the car and were seated an appropriate distance away. The two priests heard confessions continually for over an hour. Up to this point, the parish has been offering the Sacrament of Reconciliation outdoors by appointment only, but Father Kovanis said that if the quarantine continues, they will offer the drive-thru option again.
"The coronavirus pandemic is a powerful reality that speaks to the fragility of our human lives. Since our lives are not our own, we allow the sacraments to place us, body and soul, into the loving embrace of Jesus who gifts us with His mercy," said Father Kovanis. "The feast of Divine Mercy draws us more intimately into the love of God which brings peace. So many of those receiving the sacrament voiced their need for the peace that comes from Christ which they have experienced before and were grateful to experience once again."
For Caleca, it was especially meaningful to have the Sacrament of Reconciliation available before Divine Mercy Sunday. She has often turned to the Chaplet of Divine Mercy for comfort and courage during the quarantine, admitting that it can be easier said than done.
"I find courage in the Divine Mercy. I pray the Chaplet at 3 p.m. whenever possible," said Caleca. "Through the day, I think of Jesus and pray the words, "Jesus, I Trust in You," and then I try very hard to let go of my worries for my family and the world."