Family Faith Fest is Hoped to be an Outpouring of Prayer and Grace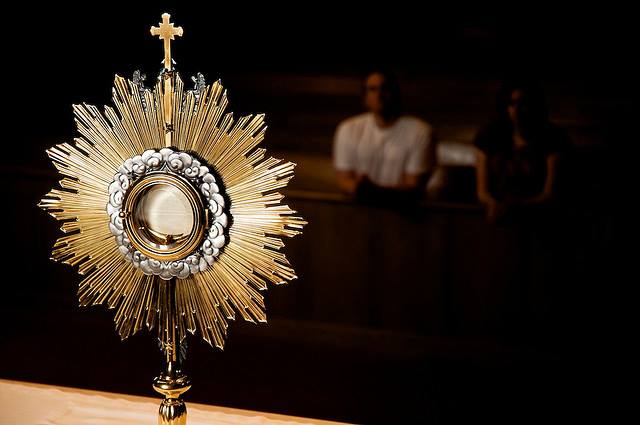 In addition to music and entertainment, the Family Faith Fest will provide an opportunity for each of us to encounter the living Christ in the Eucharist and the prayers of the people who participate.
"It will essentially be a festive encounter with our Lord," said Bishop Gregory Parkes. "Similar to a World Youth Day experience, we will come together as one Church family to deepen our faith and grow closer to Christ by means of prayer and the sacraments together with thousands of other people who have the same longing in their heart."
The "Faith Village" will be the soul of the Fest with ongoing Eucharistic Adoration, praying of the rosary and the opportunity to participate in the Sacrament of Confession. Priests of the Diocese of St. Petersburg will be on hand at six confession stations. Priests will also be on hand to answer questions about the Catholic faith.
"As priests of the Diocese we are very excited about 'Family Faith Fest', an opportunity for our local Church to come together to celebrate our faith in Jesus Christ and enjoy each other's company. It will be our privilege and joy to celebrate the Sacrament of Reconciliation and affirm the truth and beauty of our Catholic faith," said Father Gary Dowsey, pastor of Our Lady of Lourdes Parish and member of the Fest planning committee.
The Office of Worship of the Diocese of St. Petersburg is busy preparing for the Fest's outdoor Mass, which will be celebrated on the large stage at 4 pm as the Sunday vigil Mass. The Mass will be celebrated RAIN OR SHINE. Should the weather prevent the Family Faith Fest Mass from occurring outside at Al Lopez Park, it will be moved to St. Lawrence Catholic Church, 5225 N. Himes Ave., Tampa, and the start time will be 5 PM. St. Lawrence is located across the street from Al Lopez Park.
"Since the Eucharist is the source and summit of our life as Christians, the outdoor Mass will be the high point of the entire event," added Bishop Parkes.
Here is the Faith Village schedule:
Rosary: 11:00 AM, 11:30 AM, 12:00 PM, 12:30 PM, 1:00 PM, 1:30 PM, 2:00 PM, 2:30 PM
Adoration: 11:00AM – 3:30 PM
Confessions: 11:00 AM -3:30 PM
Outdoor Mass with Bishop Gregory Parkes (Vigil Mass for the Sunday liturgy) 4:00 PM
Click on image below (or here ) to watch a video about Faith Village:
ABOUT FAMILY FAITH FEST: The Family Faith Fest will be held on Saturday, October 27th from 10 AM to 6 PM at Al Lopez Park in Tampa. The event is organized by the Catholic Diocese of St. Petersburg in recognition of their 50th anniversary. All are welcome to celebrate with us the tremendous blessings that God has brought into our lives. Join us as we remember the past with gratitude, celebrate the present with joy and look to the future with hope.
The Diocese of St. Petersburg is comprised of over 470,000 Catholics and includes 74 parishes, 6 missions, 48 schools and early childhood centers, a university, and a variety of social service, health care, housing and pastoral ministries located within the five counties of Hillsborough, Pinellas, Pasco, Hernando and Citrus. Mass is celebrated in 11 languages and we are led by our fifth bishop, Most Reverend Gregory Parkes who was installed on January 4, 2017
TICKET INFORMATION:  The event is free, but registration is recommended to accommodate for parking and other amenities. Register for your tickets here.
OUTREACH: Fest-goers are asked to bring a non-perishable food item for the hungry and homeless of our community.
For more information, visit www.FamilyFaithFest.org.