Family Ministry Grows at Our Lady of Lourdes Parish – Even in the Midst of a Pandemic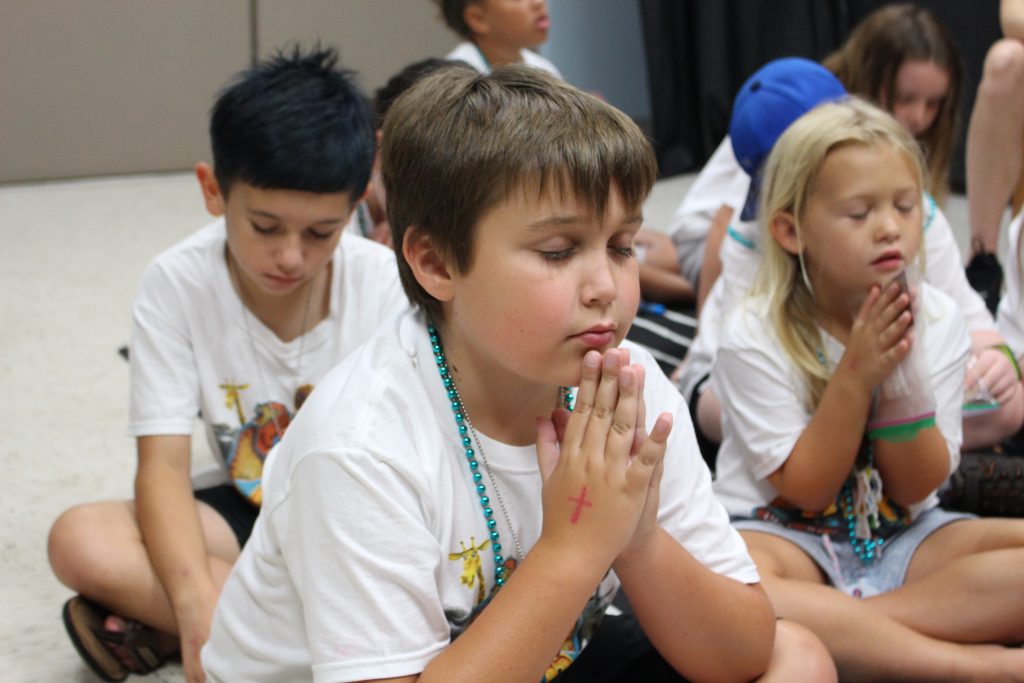 In the past year, the Sunday Faith Formation program at Our Lady of Lourdes Parish was adding one to two new families each week and nearly 100 women signed up for the Walking with Purpose Bible Study – more than three times the attendance of previous years. There is a growing number of men joining the weekly Men's Group and even in the midst of a pandemic, seven couples are currently undergoing virtual marriage preparation. With so many programs at the parish thriving and growing, it may be surprising that Joy Bleiker, parish Director of Evangelization, Formation, Youth and Family Life, is more concerned with names than numbers.
"The growth was something I was not expecting. I give full tribute to the Holy Spirit working through my team and me," said Bleiker. "A huge thing for us is just being personable and fostering that personal connection between people. A big thing we always focus on is – you are more than a number."
Though a welcoming spirit from the Faith Formation team is perhaps bringing more people in the doors, once there they are met with engaging and inspiring material that helps them grow in faith. A couple of years ago, the parish began using Blessed, a program from Dynamic Catholic, for their sacramental preparation classes. They began to notice a larger number of returning students after they received their sacraments, so much so, that this year the 4th and 5th-grade classes, which were previously combined, had to be separated and new volunteers recruited to meet the growing need. Starting this past September, Bleiker introduced Family Faith Formation Sundays where families participate in lessons together at the church and were given resources to continue the conversation at home.
"The parents are the primary educators of the faith. We want to give them the tools to do that," explained Bleiker. "That is what will make the difference when the parents recognize their call to lead their children in the faith. The children will love their faith because they see their parents love the faith."
It might have been expected that the COVID-19 shut-down that happened in mid-March would have brought all this forward momentum to a sudden stop. But Bleiker immediately sprang into action, once again eager to personally connect with the individuals they could no longer see face to face.
"Right away our whole parish team said, 'What do we need to do to be present to our community?' We called all our families to check-in and verify their contact info, making sure they were on Flocknote. We put all our weekly resources online so families could still do it together and we increased our video presence," explained Bleiker, adding that she quickly learned how to record, edit and post weekly Gospel reflections. In a time when so much was uncertain, she felt it was important for families to see a familiar face. Other programs followed suit, including marriage prep and the women's bible study, now meeting exclusively online and sharing comfort via virtual prayer and fellowship.
"We made minor changes to the existing program allowing additional time for more social conversation, much needed during the quarantine period," explained Joanne McFadden, one of the leaders of the Walking with Purpose Bible Study. "With the cancellation of activities, church services and schools, and with our personal movements limited, I found strength and hope in both the fellowship of this multi-generational group of wonderfully supportive ladies and in continued exploration of my faith."
There are three generations of the McFadden family currently participating in the parish faith formation programs. McFadden's daughter Jen is also a member of the bible study. Jen and her husband Alex will join the Baptism team in the Fall, and their two children Cecelia and Madelyn are part of the children's Faith Formation programs. She has seen how their involvement has changed the family for the better.
"It offers opportunities for each of us to learn the story of our faith in a very dynamic spiritual community," said McFadden. "I am inspired to expand my own study of the faith, to reflect more on Christ's message in Scripture, to apply it more in my own life, and most importantly, to share it more with others through conversation and works. I am inspired too, by my grandchildren, who buoyed by their own growing knowledge and understanding of the Catholic faith, choose to participate and share with others."
On incredibly short notice, the parish adopted a vibrant Faith Formation program to continue to minister to families in the midst of a global pandemic, even offering two sessions of a virtual Vacation Bible School. Thirty-five families signed up for week one which began on June 15 with daily videos, suggested activities, and a goody bag sent to each home. For Bleiker, this adaptability and willingness to try new things is all part of Courageously Living the Gospel.
"We have to be courageous to go out and make changes," said Bleiker. "I think change is very scary and hard for a lot of people, but being able to be creative and make those decisions helps lead to growth."