Father Marion Bowman Statue Dedicated at Saint Leo University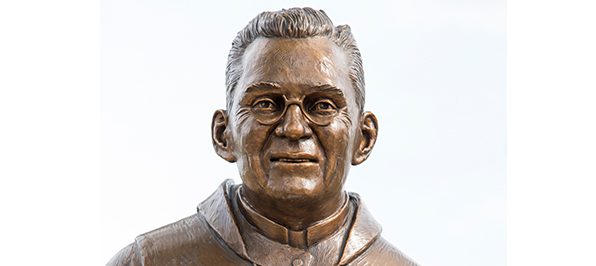 April 2, 2016 – Despite inclement weather, the dedication of a bronze statue to recognize Father Marion Bowman, OSB, former president of Saint Leo College and its predecessor institution, Saint Leo College Preparatory School, and former Abbot of Saint Leo Abbey, was held inside his namesake athletic facility at Saint Leo University, the Marion Bowman Activities Center. See photos from the dedication here.
The bronze statue depicts Father Marion as he is best remembered by Saint Leo students with a coach's whistle in one hand and the Abbot's Pectoral Cross over his heart, representing his two great loves – his passion for athletics and his strong, unwavering faith.
It was Father Marion's good works – and the work of every priest and brother who worked and prayed as a Monk of Saint Leo Abbey – that was honored by the statue dedication. Father Marion, and his brother Benedictine Monks, set the university on a path to greatness.
A generous underwriting gift from Hjalma and Laura Johnson provided the funding for the statue's design and creation. The life-size statue is the work of world renowned Tampa Bay artist, Steven Dickey, and stands outside the entrance to the activities facility. The Johnsons are longtime and dedicated supporters of Saint Leo, and were close friends of Father Marion.
"Father Marion was a man who was never satisfied with a passing grade, never satisfied with the status quo, and never satisfied with good when greatness was possible," said Dr. William J. Lennox Jr., president of Saint Leo University, who participated in the dedication ceremony held as part of Saint Leo University's Alumni Weekend activities.