Former Journalism Major Deacon Connor Penn Looks Forward to Sharing the Good News as a Catholic Priest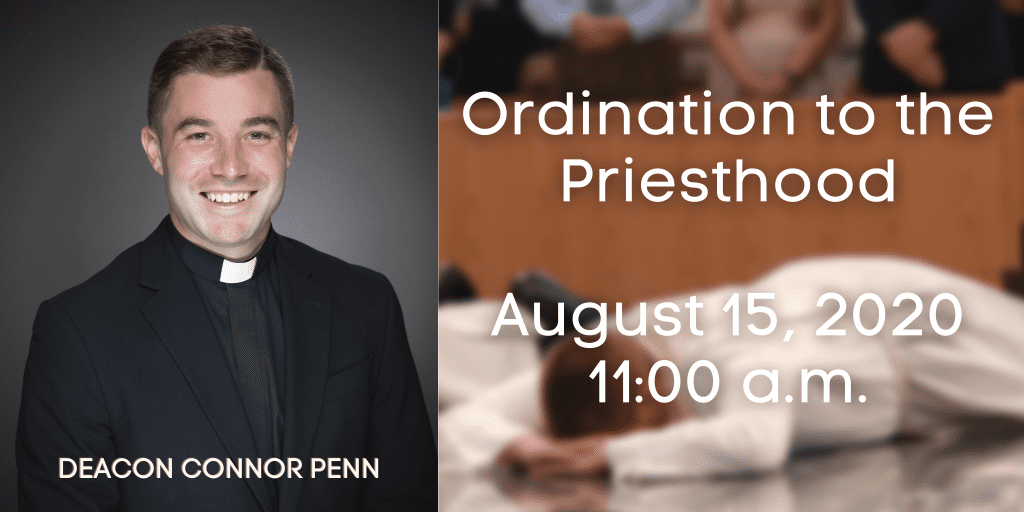 When Deacon Connor Penn was trying to decide if God was calling him to the priesthood, he asked for a sign. Later that day, a friend told him, "Have you ever thought about becoming a priest, because I think you'd make a great priest."
At that moment and other times throughout his life, Deacon Penn has discovered that God's plan for his life is to serve as a Catholic priest.
"I've been able to look back and see, 'Wow, God was communicating to me His will and His desire throughout my whole life' and I can see now how He was at work," said Deacon Penn.
"I'd say it was something that was always there," added Deacon Connor Penn, referring to his vocation. "As a kid I always felt drawn to the altar, drawn to the priesthood. I was an altar server and read at Mass. I was involved in high school campus ministry."
In addition to his deep spiritual life, Deacon Penn has many other interests such as playing sports and following the local professional teams, especially the Tampa Bay Lightning. He is also a skilled drummer and prior to entering the seminary, he spent one year at Spring Hill College in Mobile, Alabama, pursuing a degree in journalism.
Instead of reporting the news on TV though, he will be reporting the Good News of Jesus Christ. When he reflects on the life of a priest, preaching is what he believes will be most rewarding.
"I am looking forward to preaching and sharing the Good News and bringing that exciting news of our salvation and faith to people, knowing that once I've done that then I can celebrate the Eucharist. I can bring them the presence of God at that very moment," said Deacon Penn.
Deacon Penn's parents are Matt and Peggy Penn. Peggy is a long-time educator in the diocesan Catholic school system and Deacon Penn attended Catholic school his entire educational career. From Corpus Christi Catholic School in Temple Terrace to Jesuit High School in Tampa, his education was grounded in the faith.
His father, Matt, a one-time Episcopalian, has been influenced by his son's faith. "I became Catholic at Christ the King Parish after Connor did his pastoral year at Christ the King. I thought that was the perfect time. I got the calling and here I am," said Matt Penn.
The COVID-19 pandemic has postponed the ordination for three months and will limit the size of the ceremony. However, it has brought Deacon Connor to a greater kinship with St. Joseph, who had his life turned upside down.
"His entire plans for life were completely turned on their head and yet he had to surrender to the Lord's will," said Deacon Penn about St. Joseph. Being ordained during a pandemic was not what Deacon Connor envisioned but he sees this as a teachable moment which can carry him through his priesthood.
"Lord, I trust that you are actually bringing something about that's going to be more beautiful," he prayed.
Click here to listen to a radio interview with Deacon Connor Penn that is airing on Spirit FM 90.5.
Deacon Penn will join Deacon Joshua Bertrand and Deacon Drew Woodke to be ordained to the priesthood on Saturday, August 15, 2020, 11:00 a.m., at the Cathedral of St. Jude the Apostle, St. Petersburg. Due to spacing limitations resulting from the current COVID-19 pandemic, the Ordination Mass will not be open to the public. However, all are invited to view the Mass via livestream on our diocesan website: https://www.dosp.org/livestream

Deacon Penn's first assignment will be as Parochial Vicar of St. Catherine of Siena Parish, Clearwater, effective August 15, 2020.