Gannon University Dedicates Second Academic Building at Florida Campus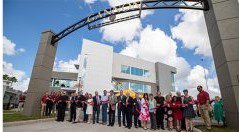 Gannon University formally opened a new 80,000-square-foot academic building at its Ruskin, Fla. campus on Friday, Aug. 23, 2019. About 220 people attended the Dedication and Blessing Ceremony at the campus, which is south of Tampa.
"Today is a monumental step in the development of Gannon University's effort in Ruskin, Fla. to advance the quality of healthcare delivery across the region and nation," said Gannon University President Keith Taylor, Ph.D. "This fabulous educational and clinical facility will stand for decades to come as a testament to our commitment to the community in the same way we have proudly served our Erie, Pa. community for nearly a century."
Gannon University began their expansion into Ruskin in 2014, and in 2015 opened the Occupational Therapy Doctorate program with 28 students. Since then, Gannon has purchased and fully renovated the current building, developed the new parking lot, and built our newest academic building. The University now has more than 240 students.
This new building, which cost about $20 million, will support the growth in our program offerings, student enrollment, and faculty and staff. The structure allows space for additional classrooms, laboratories and faculty offices that integrate new amenities, including a fitness center and a common student gathering area.
"This (academic building) is symbolic of our permanence in the Ruskin area and community," said Steven Mauro, Ph.D., vice president of Academic Administration at Gannon University.
Today, Gannon University offers seven programs that are supported by a growing team of 30 faculty and staff. In addition to the occupational therapy doctorate program, there is a Doctorate in Physical Therapy, an online Post-Professional Occupational Therapy Doctorate, Master's in Athletic Training, Master's in Physician Assistant Science, Master's in Sport and Exercise Science, and are developing a Master's in Speech-Language Pathology.
Gannon University is a leader in healthcare education in Erie as well as Florida. The Morosky College of Health Professions and Sciences has an established history of offering exceptional academic programs that prepare students to become knowledgeable, innovative, and socially responsible professionals within their careers and communities.
This new building provides outstanding learning and support environments that will be used to develop students into future healthcare professionals, support faculty and student research, and provide service to the community.
"The Dedication and Blessing of our new academic building on the Ruskin, Florida campus is a testament to Gannon University's continued growth and success in delivering exceptional graduate education in the health professions," said Sarah Ewing, dean of the Morosky College of Health Professions and Sciences. "We are so grateful for the ongoing support of the Ruskin community as we expand our campus. The new building will provide innovative learning environments for our students to learn and apply their learning in ways that allow them to serve the community."
---
About Gannon University:
Gannon University is a Catholic, diocesan university with campuses in Erie, Pennsylvania, and Ruskin, Florida, offering online and traditional associate, bachelor's, master's and doctoral programs to more than 4,000 academically talented and diverse students.
Gannon University is dedicated to excellence in teaching, scholarship and service. Inspired by the Catholic Intellectual Tradition, the University offers a comprehensive, values-centered learning experience that emphasizes faith, leadership, inclusiveness and social responsibility.