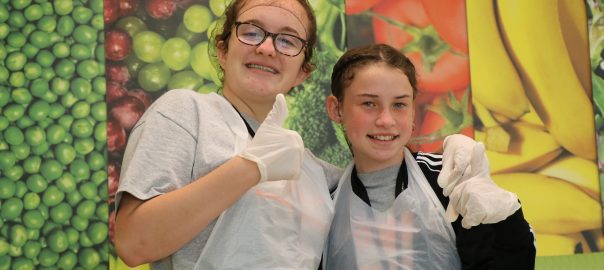 Summer of Service – Over 300 Catholic Teens Make a Difference
More than 300 teens representing 19 schools and parishes in Tampa Bay chose to spend part of their summer vacation serving others as part of the Good Samaritan Project organized by the Catholic Diocese of St. Petersburg Youth and Young Adult Ministry Office. The students volunteered June 24-29 in Pinellas, Pasco and Hernando Counties and experienced a transformation in faith as well!
"There are countless examples from the week of people inspired by the hard work of these good Samaritans, but also stories of conversion to Christ and the Catholic Church. At least one teen made his first confession, one expressed desire for baptism, and many turned to Jesus in prayer, in adoration, Mass, or a Marian procession. Some stepped up into a leadership role in ministry for the first time, and others led by example in taking the lowliest jobs without complaint. The young church lived the Gospel courageously at GSP because Christ is alive in the young church," said Michael Buckler, Regional Associate Director, Office of Youth and Young Adult Ministry.
The name for this initiative comes from the biblical story of the Good Samaritan.  When Jesus tells the story, he tells us twice to go and do likewise. The Good Samaritan Project is an opportunity for the young church to go and do. Not only do they serve and show mercy to various persons and organizations, they also exemplify what a life in Jesus Christ can and should look like, both to those they serve and to one another.
"I'm courageously living the Gospel by doing God's service, such as stocking a food pantry. It feels great to help families get the food they need," said Jose Zamora, 18, a parishioner from St. Anne Parish, Ruskin. "I hope I can touch someone's heart or brighten someone's day."
Click on link to view photos of the Good Samaritan Project! 
This year's theme was Courageously Living the Gospel. During the week-long adventure, teens volunteered during the day and gathered for prayer and games in the evening. The event would not be possible without the support of young adult chaperones who guided the teens every step of the way.
Over 20 teens volunteered at the Homeless Empowerment Program in Clearwater sorting and tagging items in the thrift store and preparing meals for the homeless in the kitchen. Some teens painted fences at a horse therapy program that helps children with special needs. Teens and their adult chaperones helped out at other agencies, including Metropolitan Ministries, Volunteer Way, Youth and Family Alternatives (a foster care agency), Gulfside Hospice, ARC Nature Coast, and Sunshine Christian Homes.
Beatriz Lopez-Gomez, 14. also of St. Anne Parish, said she gladly she gave up one week of her summer to help those less fortunate. "I feel joy because I'm helping people who need it. We're serving with passion and we're happy to be here," said Lopez-Gomez.
The Good Samaritan Project started in 2012 with summer service projects in Pasco and Hernando Counties. The program has grown in the number of participants and the number of service sites. The five pillars of the Good Samaritan Project are community, service, leadership, prayer and growth.