Help Welcome Refugees by Making a Hope Kit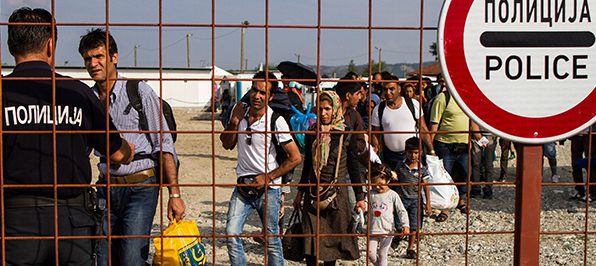 Catholic Charities is helping to resettle refugees in our community. When refugees families and individuals arrive in the United States, they have very few possessions to their name. That is when Catholic Charities, Diocese of St. Petersburg steps in. From the moment refugees arrive at the airport, Catholic Charities is there to guide them toward becoming self-sufficient and contributing members of their new community.
Refugees are in the United States legally, having fled their home country because of persecution or the fear of persecution passed on race, ethnicity, religion, political belief or membership in a particular social group. Refugees receive extensive background screening before coming to our community for safety and freedom.
Catholic Charities in our diocese works with national organizations to assist refugees arriving in the Tampa Bay area. Often, there are only a few days notification before receiving a refugee family. In that time, a complete household must be set up. As seen internationally, the greatest need at this time is for refugees settling from the war torn Middle East, fleeing violence and persecution on Syria and Iraq.
Catholic Charities will be collecting household items for the refugee families. Please consider putting together one or more of the Hope Kits described below.
Each kit should consist of new items placed in a single container and ready for delivery. Be creative! Fill a laundry basket with cleaning supplies, a wastebasket with kitchen essentials or any other suitable container that can be presented as a gift. These kits can be dropped off at any of the Catholic Charities locations listed below. 
Kitchen Kit
Dish Soap/Dishwasher Detergent

Sponges/Scouring Pads
Pot Holders
Kitchen Towels
Kitchen Trash Can (30 gal.)
Kitchen Trash Bags (30 gal.)
Storage Bags (Ziplock-type)
Plastic Wrap
Aluminum Foil
Wax Paper
Paper Towels
Bathroom Kit
Towels/Wash Cloths

Bath Mat/Bathroom Rug

Shower Curtain & Rings

Toilet Paper/Kleenex

Small Trash Can

Small Plastic Trash Can Bags

Toilet Bowl Cleaner/Brush

First Aid Kit

Insect Repellent
Cleaning Kit
Laundry Basket

Laundry Detergent/Bleach

Softener
Clothes Pins
Bucket/Mop & Broom
Sponges/Scrub Brushes
Mild Abrasive Cleaner
Glass or All Surface Cleaner
Paper Towels
Personal Grooming Kit
Bars of Soap

Shampoo/Conditioner
Hair Brushes/Combs
Nail Clippers
Toothbrushes
Toothpaste
Shaving Cream
Disposable Safety Razors
Deodorant (men/women)
Hand/Body Lotion
Baby Kit (0-3 years)
Baby Powder/Shampoo

Disposable Diapers/Diaper Bag
Diaper Rash Ointment
Baby Wipes/Q-Tips
Child's Blankets
Age Appropriate Toys
Bath Toys
Baby Bottles
Baby oil
Thermometer
Electric plug covers
Bibs
Preschool Age Kids Kit (3-5 years)
Pre-School Kids Kit (3-5)

Child/Youth Toothbrushes
Small Toys/Stuffed Animals
Child's themed cups & dishes
Sippy Cups
Beginner Books
Coloring Books/crayons
Age Appropriate Games
Night Lights
Hair Clips
Catholic Charities also accepts donations of large furniture items; call 813-631-4370 to arrange for pick up at your home.
Catholic Charities Drop-off Locations
Hillsborough County:
Tampa Center
2021 East Busch Blvd.
Tampa, FL 33612
Open 8:00 a.m. – 5:00 p.m. Monday through Friday
Pinellas County:
Jeff Forbes Center
1213 16th Street North
St. Petersburg, FL 33705
Open 8:00 a.m. – 5:00 p.m. Monday through Friday

Pasco, Hernando & Citrus Counties:
8370 Forest Oaks Blvd.
Spring Hill, FL 34606
Open 8:00 a.m. – 5:00 p.m. Monday through Friday

Photo credit: Antonio Fantasia/Caritas