"Home for Christmas" with Support from Catholic Charities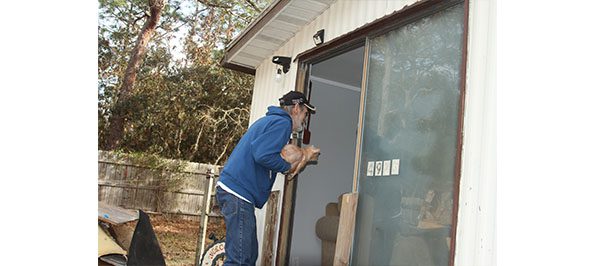 Terry Oliver will be celebrating Christmas at his Homosassa home this year, after one-year away. Last October, he and his daughter were displaced from his house because of damage sustained from Hurricane Irma.
His house was fixed thanks to the partnership between Catholic Charities of the Diocese of St. Petersburg, Mennonite Disaster Services (MDS) and the Citrus County Long-Term Recovery Group.
On December 13, MDS members and Catholic Charities turned the house over to Mr. Oliver in a brief ceremony. This is the first time he was able to see his home after the community organizations and volunteers who raced against the clock to finish the repairs needed to make this Christmas wish come true.
Upon finally returning to his home, Mr. Oliver was overwhelmed with emotion. With tear-filled eyes and a trembling voice, he said "This is a blessing. I can't thank you all enough."
While the Tampa Bay area dodged a direct hit from Hurricane Irma from September 2017, certain areas in West Central Florida were heavily impacted, especially in Hernando and Citrus Counties. These areas experienced fierce winds and flooding and suffered over $60 million in crop and timber losses. Nearly 6,000 Citrus County households filed claims with FEMA.
Catholic Charities has provided over $1 million in assistance to nearly 2,000 clients who suffered some form of damage due to Hurricanes Maria and Irma, including rent and mortgage assistance, utilities, food, home repairs and more.
In order to help families with their long-term needs and return their lives to a sense of normalcy, Catholic Charities formed partnerships with community organizations. One partnership was with MDS. Another was with Citrus County Long-Term Recovery Group, a public-private partnership formed to assist in the long-term recovery of Citrus County families with significantly damaged homes. Citrus County Long-Term Recovery Group (LTRG) selected Mr. Oliver for repairs to his home and volunteers from MDS did the repair work.
In Mr. Oliver's home, his bedroom and bathroom had rotted floors and mold-infested walls. Those two rooms needed to be stripped down to theirstuds and rebuilt. The rest of the home had water and mold damage and floors and ceilings had to be repaired as well.
Mr. Oliver is a retiree on disability who suffers from chronic back pain and emphysema. His home was first damaged during Hurricane Hermine in 2016, but he missed the FEMA claim submission deadline. Hurricane Irma worsened the damage. Walking on the floors was dangerous and Mr. Oliver almost fell through on numerous occasions. He was repeatedly ill due to exposure to mold. After Hurricane Irma, Mr. Oliver was forced to move in with his brother, and this time submitted a FEMA claim on time. His home was selected for repairs by the LTRG.
In early December, eight MDS volunteers arrived at Mr. Oliver's home with supplies and equipment to repair the damage. Led by 20-year program veterans Norm and Carolyn Ringenberg, their mission was to repair the homes of individuals whose homes were damaged from Hurricane Irma in a partnership with Catholic Charities. Mr. Oliver's home was the MDS volunteers' eighth home repair of their fall season. The MDS volunteers will return in January to continue their partnership with Catholic Charities to help repair more homes in Citrus County.
About Catholic Charities Diocese of St. Petersburg
Since 1945, Catholic Charities has provided social services aimed at supporting and preserving families and promoting self-sufficiency and social justice. As an accredited Agency, Catholic Charities is a non-profit leader in serving the poor and vulnerable within Pinellas, Hillsborough, Pasco, Hernando and Citrus counties. To learn more, visit www.ccdosp.org/.