Homeless Find Housing Thanks to Hillsborough Hope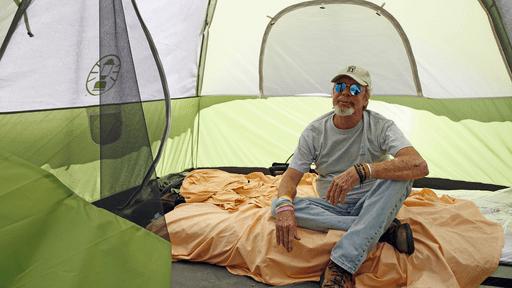 Faced with homelessness after a house fire, Catholic Charities' homeless shelter in Tampa became a saving grace for Kishada. After living in her car for months, Kishada came to the shelter feeling anxious, but her experience there led her down a positive and restorative path.
The 60-day emergency shelter dubbed "Hillsborough Hope" provided housing to Tampa's homeless at the start of the COVID-19 pandemic. From March 30, 2020, to June 3, 2020, Hillsborough Hope provided essential support and shelter for 210 people. Of those, 44% found permanent housing when the program ended. Considering that the national average for this transition from emergency shelters is about 30%, Hillsborough Hope was deemed a great success.
Kishada stayed at Hillsborough Hope for the duration of the program. She had her own tent, was provided 3 meals a day, and had access to laundry and restrooms. At first, though, she was wary of the program.
"They said Hillsborough Hope is going to help people and at first I didn't believe it. I was like why are they doing all this? When the staff started showing us they were there to help, not out to get us, it made me open my mind a little bit more and say I can trust you a little more," she shared.
There were 2-3 case managers on-site every day to help individuals and families find permanent housing. Additionally, those staying at the shelter were given access to mental health and financial resources to help them in their transition.
"What we bring to the table, programmatically speaking, is what moves people to permanent housing. These folks were able to access services onsite, such as laundry, clean water, meals every day, case management. We're able to move them into housing much faster than if they were to remain on the streets," said Maggie Rogers, Executive Director of Catholic Charities of the Diocese of St. Petersburg.
Thanks to Hillsborough Hope's compassionate staff, Kishada is now in permanent housing.
"I had plenty of days where I was like I am giving up, I'm gonna leave, but then you had the staff who really did care about you. It makes a difference when somebody says oh, I care about you but then actually shows it. They went out of their way to do a lot of things they didn't have to do," Kishada said.
Catholic Charities' mission is to serve those most vulnerable and to courageously live the Gospel. Hillsborough Hope is an important example of both of these goals. The staff onsite and behind the scenes was able to show radical love and support to people in need. As Kishada put it, "It feels good to know that someone actually cares." For more information, and to consider donating, visit www.ccdosp.org
Above Photo Caption: A Hillsborough Hope client finds shelter and shade at Hillsborough Hope earlier this year.