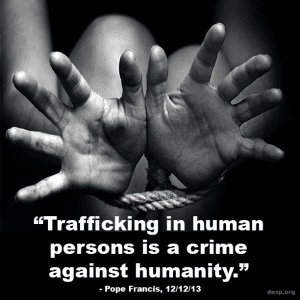 For the first time in history, leaders of the world's largest faiths have come together. Their goal is to end slavery. Committed to the dignity and freedom that is the birthright of all humankind, Catholic, Anglican, Muslim, Hindu, Buddhist, Jewish, and Orthodox leaders have signed a Joint Declaration of Religious Leaders Against Modern Slavery on World Day for the Abolition of Slavery.
The Bishops of Florida, through the Florida Catholic Conference, have called upon all Catholics to fight the evil of human trafficking. The bishops, along with a committee of consulters from throughout the state, have been working diligently to develop an integrated approach to bring awareness to the exploitation of victims of human trafficking which destroys their mental, physical, emotional and spiritual health.
Below are resources available for parishes and others who will join the Human Trafficking Awareness Campaign to bring attention to this tragedy which destroys the families and communities in which we live. As Catholics, called to reflect the light of Jesus in places of great darkness, we must speak out and work diligently on behalf of our brothers and sisters in captivity.
Become a SHEPHERD ((Stop Human Trafficking and Exploitation. Protect, Help, Empower and Restore Dignity)
Upcoming Event
Human Trafficking Awareness Seminar on Thursday, February 6, 2020
Learn More
U.S. Bishops Conference anti-trafficking campaign
Florida Conference of Catholic Bishops Statement on Human Trafficking
USCCB Brochure on Human Trafficking
Prayers to End Human Trafficking: 1, 2, 3 – with the intercession of St. Josephine Bakhita (English / Spanish)
WEDU Documentary:  Too Close to Home:  Human Trafficking in Tampa Bay
Resources
Human Trafficking Power Point Presentation
Parish Action Kit – A complete parish action kit to integrate Catholic Social Teaching as it relates to Human Trafficking within the local parish. This includes teaching aids for all ages, liturgical guidelines and homiletic resources, parish staff awareness training, social justice service projects, a planning calendar to integrate the Liturgical calendar with the United Nations sponsored international days/weeks, bulletin announcements and articles in English and Spanish.
Clearwater/Tampa Bay Task Force on Human Trafficking – Bibliography and Resource Information