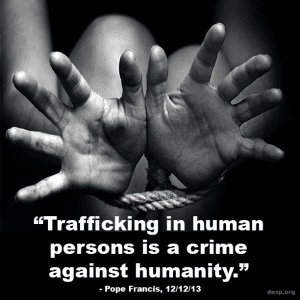 How I wish that all of us would hear God's cry: 'Where is your brother?' (Gen. 4:9). Where is your brother or sister who is enslaved? Where is the brother and sister whom you are killing each day in clandestine warehouses, in rings of prostitution, in children used for begging, in exploiting undocumented labor? Let us not look the other way." – Pope Francis, Evangelli Gaudium
Florida, particularly the Tampa Bay area, is considered a hotspot for human trafficking. As Catholics, we are called to preserve the sacredness of human life and endeavor to put an end to this form of modern-day slavery.
The Diocese of St. Petersburg has partnered with the U.S. Institute Against Human Trafficking and the United States Conference of Catholic Bishops to encourage all parishes and Catholic schools to become "Trafficking-Free Zones" to end modern-day slavery and protect children and youth. Participating entities are asked to conduct training sessions, issue a proclamation and offer other educational opportunities. Download the flyer to learn more. Register with the U.S. Institute Against Human Trafficking at: https://usiaht.org/training/tfz-register/  and contact Sabrina in the Office of Life, Justice and Advocacy at sab@dosp.org.
Our Lady Queen of Peace Parish is the first parish in the Diocese to declare itself a "Trafficking-Free Zone." This parish has also created an "Anti-Trafficking Event Planning Manual," in collaboration with the Pasco County Commission on Human Trafficking. Our Lady of Lourdes Parish has also signed on to become a Trafficking Free Zone.  Click Here to access manual.
Parishes are also asked to consider starting an "S.O.S." Ministry,(Speaking Out on Slavery), which originated at St. Paul Parish, Tampa. A few other parishes such as St. Timothy Parish, Lutz and Espiritu Santo, Safety Harbor, now have S.O.S. chapters and others are considering participation in this movement which seeks to educate about the atrocities of human trafficking, encourage advocacy and support local anti-trafficking organizations that serve local victims.
Learn More
U.S. Bishops Conference anti-trafficking campaign
             Day of Prayer Anti-Trafficking Toolkit 2021    
Florida Conference of Catholic Bishops Statement on Human Trafficking
USCCB Brochure on Human Trafficking
WEDU Documentary:  Too Close to Home:  Human Trafficking in Tampa Bay
Blind Eyes Opened: The Truth about Sex Trafficking in America: https://blindeyesopened.com/
The Polaris Project
www.polarisproject .com
Polaris Project is a leading organization in the global fight against human trafficking and
modern-day slavery. Named after the North Star "Polaris" that guided slaves to freedom
along the Underground Railroad, Polaris Project is transforming the way that individuals
and communities respond to human trafficking, in the U.S. and globally.
International Labour Organization
www.iol.org
The International Labour Organization (ILO) is devoted to promoting social justice and
internationally recognized human and labour rights, pursuing its founding mission that
labour peace is essential to prosperity. Today, the ILO helps advance the creation of
decent work and the economic and working conditions that give working people and
business people a stake in lasting peace, prosperity and progress. Its tripartite structure
provides a unique platform for promoting decent work for all women and men. Its main
aims are to promote rights at work, encourage decent employment opportunities,
enhance social protection and strengthen dialogue on work-related issues.
Blue Campaign, US Department of Homeland Security
www.dhs.gov/topic/human-trafficking
In 2010, DHS launched the Blue Campaign, unifying the DHS components to more
effectively combat human trafficking through enhanced public awareness, training,
victim assistance, and law enforcement investigations. By expanding our collaboration
within the department, as well as among domestic and international governments, law
enforcement, non-governmental organizations, and the private sector, DHS is helping to
protect victims from being trafficked both within the United States and around the
world.
Resources
Prayers to End Human Trafficking: 1, 2, 3 – with the intercession of St. Josephine Bakhita (English / Spanish)
The USCCB Day of Prayer Anti-Trafficking Toolkit 2021   
Parish Action Kit – A complete parish action kit to integrate Catholic Social Teaching as it relates to Human Trafficking within the local parish. This includes teaching aids for all ages, liturgical guidelines and homiletic resources, parish staff awareness training, social justice service projects, a planning calendar to integrate the Liturgical calendar with the United Nations sponsored international days/weeks, bulletin announcements and articles in English and Spanish.
Planning Manual from Our Lady Queen of Peace Parish
This handbook is an excellent resource for planning awareness events in your parish or school.
PASTORAL ORIENTATIONS ON HUMAN TRAFFICKING
This 40-page resource booklet offers practical guidelines to make the Church's commitment in the fight against human trafficking more appropriate and effective.