Survey & Listening Sessions with Bishop Parkes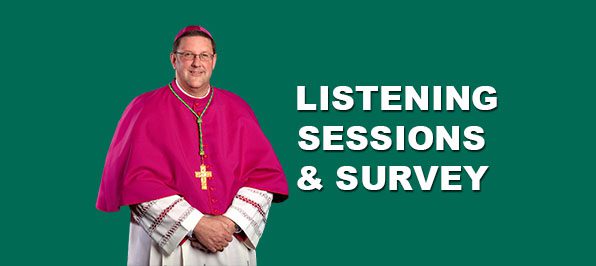 As he settles into his new position as fifth Bishop of St. Petersburg, Bishop Parkes would like to hear the input and opinions of the faithful.
He will be holding nine listening sessions across the Diocese over the next several months to hear the answers to the following three questions.
What are we doing well as a diocese?
What things could we improve upon as a diocese?
What things in ministry should we be focusing on as a local Church?
See the dates and locations for the listening sessions below. If you are unable to attend one of the nine listening sessions, Bishop Parkes would still like your feedback. Please answer the questions via a bilingual, anonymous, online survey (link below). All responses will be read and considered.
The survey is now closed. The survey was available through April 30,2017. 
DATES/LOCATIONS OF NINE LISTENING SESSIONS
PDF Flyer English (Word: Color / B&W) (PDF: Color / B&W) | Image for Social Media
PDF Flyer Spanish (Word: Color / B&W)  (PDF: Color / B&W) | Image for Social Media
February 27, 2017
7:00 p.m. – 8:30 p.m.
St. Stephen Parish
5049 Bell Shoals Road
Valrico, FL 33596
February 28, 2017
7:00 p.m. – 8:30 p.m.
St. Lawrence Parish
5225 N. Himes Ave
Tampa, FL 33614
March 6, 2017
7:00 p.m. – 8:30 p.m.
Espiritu Santo Parish
2405 Philippe Pkwy
Safety Harbor, FL 34695
March 14, 2017
10:30 a.m. – 12:00 p.m.
St. Scholastica Parish
4301 W. Homosassa Trail
Lecanto, FL 34461
March 20, 2017
7:00 p.m. – 8:30 p.m.
St. Mark the Evangelist Parish
9724 Cross Creek Blvd
Tampa, FL 33647
March 24, 2017 – IN SPANISH
7:00 p.m. – 8:30 p.m.
St. Clement Parish
1104 N. Alexander Street
Plant City, FL 33563
March 27, 2017
10:30 a.m. – 12:00 p.m.
St. Michael the Archangel Parish
8014 State Road 52
Hudson, FL 34667
March 28, 2017
7:00 p.m. – 8:30 p.m.
St. Frances Xavier Cabrini Parish
5030 Mariner Blvd.
Spring Hill, FL 34609
April 17, 2017
7:00 p.m. – 8:30 p.m.
St. Petersburg Catholic High School
6333 9th Ave. N.
St. Petersburg, FL 33710