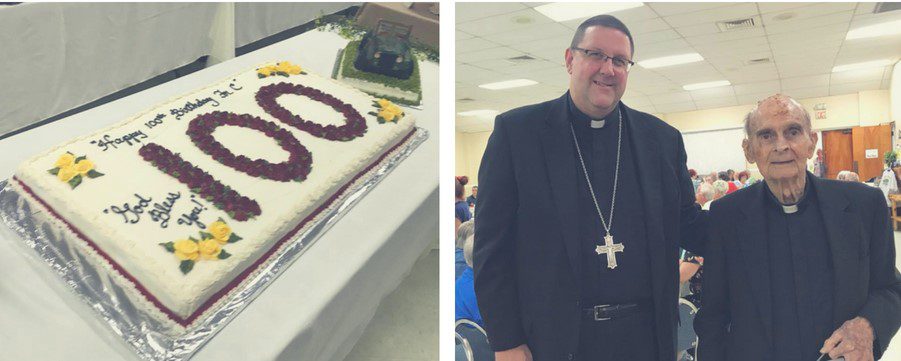 Studies have shown that a strong faith can help you to enjoy a long, healthy life.  If you have met Monsignor George Cummings, you would be convinced that this is true!
On June 21st, the retired priest gathered with 150 of his closest friends, brother priests and Bishop Gregory Parkes to celebrate his 100th birthday.  He celebrated in a way befitting this humble centenarian, with the celebration of Mass, laughter and of course, cake. Not just one, but three cakes. One was designed to look like a jeep since he had survived a jeep accident and was even trapped underneath it. The festivities included the presentation of a papal blessing from Pope Francis.
If turning 100 wasn't enough of a reason to celebrate, Monsignor Cummings will also be celebrating 75 years of priesthood this year.  He was ordained a priest on November 27, 1943 for the Diocese of St. Augustine, which covered the entire state of Florida at the time. During his early years, he taught Latin and religion at St. James Cathedral School in Orlando and helped found Archbishop Curley Catholic High School in Miami. He served 20 years in Venice at Epiphany Parish, now named Epiphany Cathedral.
He led many young people to Christ through his educational and pastoral ministry and he even served as Youth Ministry Director for the Diocese of St. Augustine. He wanted young people to have a place they could go in the summer to continue their formation and to develop friendships, so in 1947, he founded Our Lady of Good Counsel Camp, in Floral City, where he served as Director for over 37 years.
After the Diocese of St. Augustine was divided into multiple dioceses in 1968, Monsignor Cummings became a priest of the newly-established Diocese of St. Petersburg.  In 1976, Bishop Charles McLaughlin entrusted Monsignor Cummings with the leadership of St. Elizabeth Ann Seton Parish, Citrus Springs, where he oversaw significant growth at the new parish during his fifteen years as pastor until his retirement in 1991.  Since then, he has maintained his residence in Citrus County, providing wise counsel to many younger priests and giving generously of his time and resources for the ongoing ministry to our youth at Good Counsel Camp.
When Diocesan Director of Vocations Father Carl Melchior was still a seminarian, he interned at Good Counsel Camp. One day he asked Monsignor Cummings when he had decided to become priest. Without skipping a beat, Monsignor Cummings said "this morning." With equal parts wit and sincerity, he said, "every day I wake up and I recommit myself to serving as a priest."
Because of his faith-filled commitment, thousands of people have encountered Jesus in the Sacraments and the loving presence of a humble priest who now begins his second century of life devoted to leading souls to heaven.
During his 75 years of priestly ministry, Monsignor Cummings has served under seven popes and seven bishops and has witnessed the exponential growth of the Catholic Church in Florida.  At the request of Archbishop Joseph Hurley, he was given the ecclesiastical honor of Domestic Prelate (now Honorary Prelate) by Pope John XXIII in 1959.
Father Emeric Szlezak, OFM is another centenarian priest of the Diocese of St. Petersburg.  He turned 100 last December. You can read about him here: https://hnp.org/emeric-szlezak-celebrates-100th-birthday/