Local Student Organizes Easter Collection for Children in Need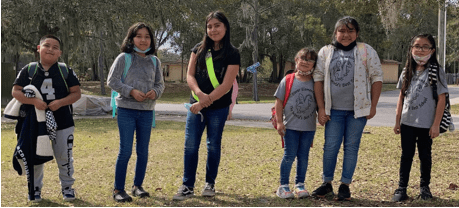 Avery Thayer, a 21-year-old college student, is organizing a collection to help fill up Easter baskets for children of the San Jose Mission in Dover and your help is needed!
"We are hoping to give joy to these families who have struggled through the pandemic. We want these families to feel loved and cared for. As Catholics, we are called to love every human being. Charity is an imperative–love your neighbor," said Avery.
Avery first heard about the San Jose Mission while attending Mass at St. Stephen Parish in Valrico. She decided she would provide Easter baskets to the families there as a Lenten project.
"Lent is a time of reflection as we approach Easter. It is a time to imitate Christ's sacrifice and to give to others," said Avery.
The San Jose Mission is a ministry of Catholic Charities of the Diocese of St. Petersburg that provides affordable housing and social/educational services to 500 residents.  Many of the residents are low-income farm workers who travel for seasonal employment.
The pandemic has had a detrimental effect on many families. Unlike many Americans with paid sick leave, if crop workers are sick and unable to work, they do not get paid. They cannot pay rent for extended periods or cannot afford to buy the necessities many take for granted.
"About forty percent of our families do migrate out of state, basically chasing the crops all the way to Michigan," said Maria Barrios, the Housing Manager for San Jose Mission.
HOW TO DONATE
To participate, you are asked to purchase items for the Easter baskets that have already been donated. Practical and fun items are needed for children of all ages. For example, a 4-year-old might receive candy as well as a stuffed animal or a small toy, children's shampoo, toothbrush or maybe a clothing item. Older kids might receive age-appropriate toys, socks or shoes, and other personal hygiene products like cologne or perfume.
The goal is to fill 500 Easter baskets so they can serve not only the San Jose Mission but other places as well.
Items can be dropped off at various locations throughout the Diocese of St. Petersburg until March 28th. A special event will be held on Holy Saturday (April 3, 2021) at San Jose Mission to give the Easter baskets to the children.
For a list of needed items and drop off locations visit ccdosp.org/donate-for-joy. If you prefer to make a cash donation, please text donateforjoy to 41444.