Make the Trip to the Capitol and Make a Difference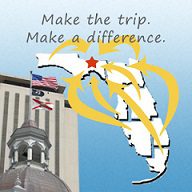 All are invited to participate in Catholic Days at the Capitol in Tallahassee from March 26-27, 2019. This two-day event provides the opportunity to put into action our faith's call to political responsibility and allows us to strengthen the presence of our Catholic values in the public square. The group will be joined by Bishop Parkes!
Catholic Days activities include:
A legislative briefing on policy issues affecting human life and dignity
Pre-scheduled meetings with lawmakers
A luncheon for Catholic Days participants, Florida's bishops and legislators
Group photos of each diocesan delegation with their bishop
Tours of the current and historic capitol buildings
Annual Red Mass of the Holy Spirit celebrated by the bishops of Florida to pray for those working in the legislative, judicial and executive branches of government
Register early and email Sabrina Burton Schultz, Director of the Office of Life, Justice and Advocacy Ministry at
sab@dosp.org
, if you are planning for group transportation.
Registration deadline is March 12, 2019 and hotel group rate ends March 19, 2019.