Marking 65 Years of Priestly Ministry
In 2019, 3 priests in the Diocese of St. Petersburg will celebrate the 65th anniversary of their ordination. They will be recognized by Bishop Parkes during the annual Chrism Mass on Tuesday, April 16. They are: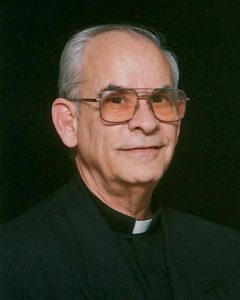 Rev. Jose G. Gonzalez
He was born in Asturias, Spain and moved with his family to Havana, Cuba while still an infant.  He was ordained in Rome on December 7, 1954 for the Salesian Order.  He arrived in the Diocese of St. Petersburg in 1974 and was accepted as one of our diocesan priests in 1979.  Father Gonzalez provided ministry to the Hispanic community and was Spiritual Director for the Hispanic Cursillo.  He also assisted with Marriage Encounter for many years until his retirement in 2002, after which he continued to serve at St. Michael Parish, Clearwater and at St. Raphael Parish, St. Petersburg, where he has resided.
---
Rev. Robert Schindler
He was born in Hollywood, Maryland and was ordained on May 8, 1954 for the Diocese of Monterey, California.  In 1969, he became a priest of the Diocese of Campeche, Mexico.  Father Schindler moved to the Diocese of St. Petersburg in 1993, where he ministered as a Chaplain at James A. Haley V.A. Hospital, Tampa until 2002, after which he has provided assistance in several parishes, including with the Traditional Latin Mass at the Cathedral of St. Jude the Apostle.
---
Rev. Robert Velten, O.S.B.
He first professed as a Benedictine Monk in 1949 and was ordained on May 27, 1954.  He is a member of the American Cassinese Congregation of Benedictines and resides at Saint Leo Abbey, where he formerly served as Local Superior.  From 1959 to 1964, Father Velten was Headmaster of Saint Leo College Preparatory School (now Saint Leo University).
---
Requiescat in pace– May he rest in peace: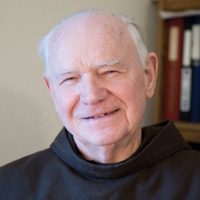 Rev. Emeric Szlezak, O.F.M. would have celebrated his 75thanniversary of ordination to the priesthood for the Franciscan Order of Friars Minor on June 11th.  A native of Budapest Hungary, Father Szlezak served for many years in New York and Connecticut before moving to St. Anthony Friary, St. Petersburg, where he remained active while in retirement frequently offering Masses for Hungarian-speaking Catholics.  Father Szlezak died on March 16, 2019 at the age of 101.