Misa Diocesana Hispana – Celebración de Nuestras Advocaciones Marianas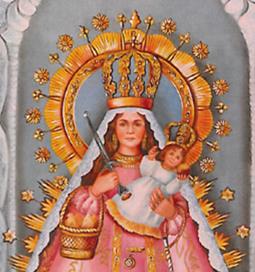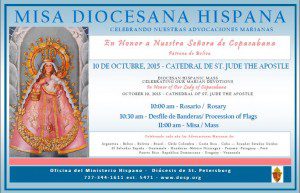 Poster de La Misa Hispana  (11″x17″)  
10 de octubre, 2015 – Catedral de St. Jude The Apostle – 10:00 am – Rosario / Rosary
10:30 am – Desfile de Banderas/ Procession of Flags 11:00 am – Misa / Mass.

Peregrinaje de la Virgen: La Imagen de la Virgen estará en peregrinaje en las seis regiones de nuestra diócesis comenzando en el mes de Junio y Terminando con su entrada en la Catedral el 10 de Octubre cuando no solo celebraremos nuestra  herencia y cultura, sino  también una de las cosas que nos une como católicos comprometidos: ¡nuestro amor y devoción por la Madre de Dios! ¡Los esperamos!
Historia de la Virgen de Copacabana -Bilingüe
INTERCESIONES 2015 – Bilingüe
Salve Regina – Bilingüe