Monk Ordained as Catholic Priest During Feast of Saint Leo Mass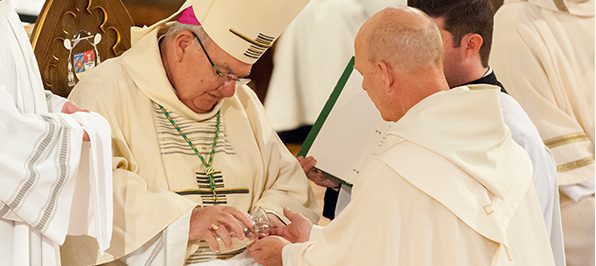 ST. LEO, FL — The annual Feast of Saint Leo Mass included a special component this year for the Saint Leo University community as one of the Benedictine Monks of Saint Leo Abbey was ordained.
The Most Reverend Robert Lynch celebrated the Mass on November 10 at the Abbey Church along with concelebrant Abbot Isaac Camacho, OSB, as Clement Rees, OSB, was ordained as a Catholic priest. View photos from the ordination here.
Clement Thomas Rees was born in 1957 in Texas to Tom and Mary Jane Rees. He has two siblings. He spent four years in the U.S. Navy as a medic and graduated from the University of South Alabama in 1985 with a business degree. He underwent a conversion, became Catholic and began a solitary journey, traveling to the United States and retiring to a sailboat in Florida.
A friend brought him to Saint Leo Abbey where he became a novice in 2008. He graduated from Saint Leo University with a Master of Arts in theology and was sent to study at St. John's Abbey Seminary in Minnesota. Brother Clement was made prior at Saint Leo Abbey on March 21, 2015, and ordained deacon on May 29, 2015, by Bishop Lynch.
At the ordination Mass, Bishop Lynch spoke of the Rule of Benedict, upon which the Order of Saint Benedict was founded and upon which the university's core values are based. "Brother Clement, the Rule by which you lived your life has prepared you for priesthood," he said. Read Father Clement's reflections on his ordination to the priesthood here.
The Feast of Saint Leo Mass also marked the closing of the 125th anniversary of Saint Leo Abbey and Holy Name Monastery.