More Than 350 People Are Preparing to Become Catholic This Easter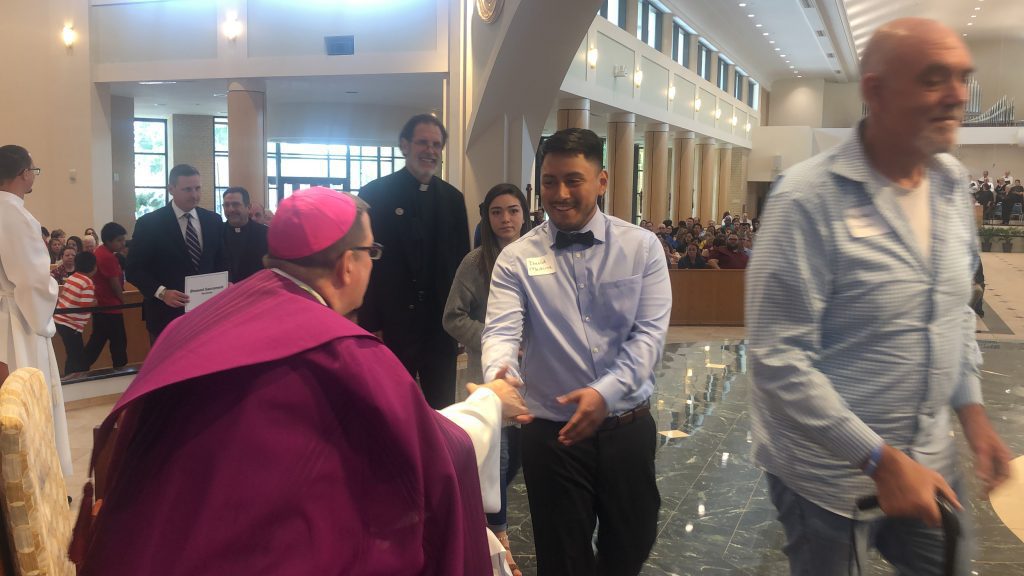 More than 800 people from parishes across the Diocese of St. Petersburg gathered at the Cathedral of St. Jude the Apostle in St. Petersburg for the Rite of Election on Sunday, March 10. The Rite of Election is the ceremony when parishes present their catechumens to the bishop as they begin their final spiritual preparations to become Catholic. This spiritual preparation coincides with the season of Lent.
A catechumen is an unbaptized person being formed in the Christian faith and life in preparation for entry into the Church. Now called the "elect," these catechumens will receive the three sacraments of initiation (Baptism, Confirmation and Eucharist) at the upcoming Easter Vigil at their parish on Saturday, April 20. There were 353 catechumens present; 182 of whom were adults and 171 of whom were children of catechetical age. See the photo album from the Rite of Election here.
These elect all have been participating in Rite of Christian Initiation of Adults (RCIA) processes at their parishes.
After listening to a scripture reading by Julia Valdéz of St. Joseph Parish in Tampa and to the proclamation of the Gospel by Deacon Jim Grevenites, Bishop Gregory Parkes preached a brief homily.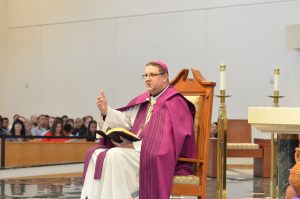 "It is a joy to be here with you today. This is one of the days I look forward to the most," he shared. Then, Bishop Parkes asked the catechumens to reflect upon why they decided to embark upon this journey into the Catholic faith.
"I believe in my heart, in my soul, that Jesus has called you here today, by name. It is He, who has embraced you as brothers and sisters through Baptism and the other Sacraments of our faith," shared Bishop Parkes.
After his homily, the catechumens were presented to the bishop, with each one standing when their RCIA Director called their name. Most could not stop smiling as they stood to be recognized.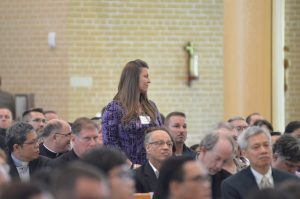 One of the joy-filled elect was Shannon Cushcleg.  A catechumen from St. Catherine of Siena Parish in Clearwater, Shannon did not have a religious background growing up. She met her husband, who was born and raised Catholic, and saw how passionate he and his entire family were about the faith. Shannon began attending Mass regularly and participating in Church activities with her husband and his family, all the while starting to feel the gentle tugging of the Lord upon her heart.
After the couple moved to Florida in the fall of 2017, they searched for a new parish.  It did not take long to find one and this moment was the final bit of inspiration for Shannon to decide to take the leap into the Catholic faith.
"When we stepped into St. Catherine of Siena, it felt like coming home. And with that, I knew that it was time to become Catholic," Shannon shared.
During the presentation of the catechumens to the Bishop Parkes, Shannon beamed as she greeted the bishop. The joy she felt was clear to all who saw her.
"I'm very excited! The Rite of Election is one step closer to becoming Catholic. With every step, I truly feel closer to God and more connected," she said.
Shannon's extended family is thrilled that she is officially becoming Catholic. Her in-laws are even flying in from out of town for the Easter Vigil to witness and celebrate her Baptism.
Another joyful elect was Stefanie B. of St. Lawrence Parish in Tampa.
Originally from Poland, Stefanie's family moved to Florida from the West Coast when she was very young. She was raised Catholic and attended Catholic schools. She is engaged to be married this September, however, when filling out the necessary paperwork, Stefanie was unable to find any documentation of herself receiving the Sacraments. This documentation is necessary when celebrating a Catholic marriage.
Wanting a Catholic marriage, Stefanie decided to go through the RCIA process at St. Lawrence so that she could have official records of receiving the Sacraments.
"God has a reason for me to be going through the RCIA and I'm glad to be going along with His will," she shared. "Unexpectedly, my faith life has deepened throughout this journey as well."
Article by Maria Mertens.