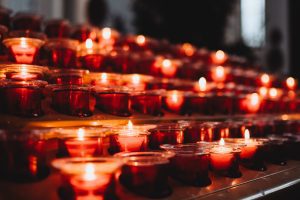 Mr. Thomas DeJulio, 77, brother of Reverend David DeJulio, pastor of St. Frances Xavier Cabrini Parish, Spring Hill, passed away on Wednesday, December 29, 2021, in Rensselaer, New York.  Surviving family members include his wife, Marilyn, son, Gregory DeJulio, daughter, Felicia (Vincent) Luca, five grandchildren, brothers, Felix (Lois) DeJulio, Frank (Terri) DeJulio, and Father David DeJulio, along with numerous extended family members.  A funeral Mass will be held at St. John the Evangelist and St. Joseph Catholic Church, Rensselaer, New York, 10:00 a.m., on Wednesday, January 5, 2022.  Additional obituary information and details may be found by clicking on this link.
Expressions of sympathy may be sent to Rev. David DeJulio, c/o St. Frances Xavier Cabrini Catholic Church, 5030 Mariner Boulevard, Spring Hill, FL  34609.
Please keep Mr. DeJulio's family members and loved ones in your kind thoughts and prayers during this difficult time.
++++
May his soul and the souls of all the faithful departed,
through the mercy of God, rest in peace.