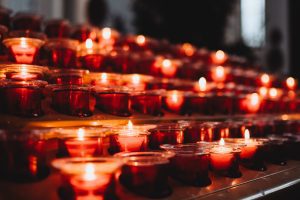 The Diaconate Office has received word of the passing of Mrs. Alba Lugo, age 73, wife of Deacon Gregorio Lugo of St. Frances Xavier Cabrini Parish, Spring Hill,  who passed on June 29, 2023.
She is survived by her two sons, Gregorio Lugo Jr. (Iniabett); and Nelson Sr. (Susan) and her grandchildren, Natasha, Tyson James, Nelson Jr. , Adaliz, Nicholas and Nathan.  She was predeceased by her daughter Evelyn. She will be remembered by numerous nieces, nephews and a host of friends that turned into family.
A Mass of Christian Burial was held on Monday, July 3rd 2023,  at St. Frances Xavier Cabrini Catholic Church, 5030 Mariner Blvd, Spring Hill.
Expressions of sympathy may be sent to Deacon Gregorio Lugo at the parish address listed above.
Complete obituary at this link.
Please keep the Lugo Family in your thoughts and prayers.
+++++
May her soul and the soul of all the faithful departed
by the mercy of God rest in peace.